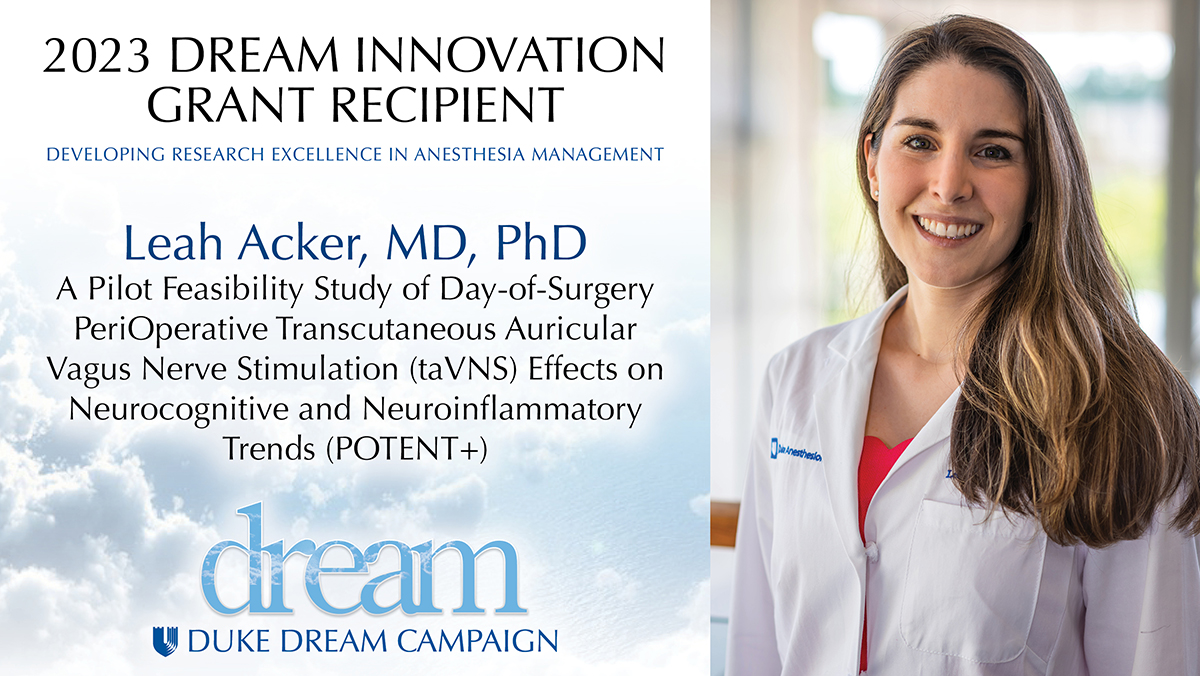 The DREAM Innovation Grant (DIG) supports innovative high-risk and potentially high-reward investigations to accelerate anesthesiology, perioperative, critical care, and pain management research.
2023 DIG Recipient
The concept behind the DREAM Innovation Grant (DIG) – first launched in 2010 – is simple, yet brilliant. An annual competition is held among junior to mid-career faculty members within Duke Anesthesiology, who do not have established NIH funding (past or present). Competitors submit their most innovative research ideas to a panel of judges for review. Proposals that demonstrate the perfect blend of ingenuity and practicality are selected, and winners are announced at the department's annual alumni reception.
DIG recipients can receive up to $40,000 in seed money for their innovative pilot studies, which ultimately help them apply for and obtain extramural funding. None of the funds awarded are to pay for faculty salary. This grant creates an avenue for healthy competition among faculty, inspires ingenuity, promotes the careers of young physician investigators, enhances donor communication, and furthers the department's academic mission. DIGs help to bridge the gap between training and progression to independent investigator status.
Junior to mid-career faculty members within Duke Anesthesiology, who do not have established NIH funding (past or present), are eligible to apply.  One of the grants will be reserved to support a beginning scientist (within five years of completion of residency or fellowship) by encouraging and adequately funding projects that can contribute to bridging the gap between training and progression to independent investigator status. The other award(s) will be used as a seed grant to help investigators obtain preliminary data to support a new application to the National Institutes of Health.
A maximum of $40,000 will be awarded to each recipient. The number of grant recipients and grant amount will be determined by the DREAM Innovation Grant Committee.
DREAM Innovation Grants are funded through a combination of:
Private donors
Private companies
Alumni
Faculty
Executive Board members
Funding provided by DIG will support a researcher for one year, during which pilot studies can be conducted. Investigators must submit quarterly reports to track their progress. Not only do these reports give each researcher an edge over their competition when submitting National Institutes of Health (NIH) applications, but they are also shared with DREAM Campaign supporters to provide them with tangible evidence that their donations are making a difference.
At the conclusion of the one-year period, a new group of DIG winners are announced, and the cycle of innovation and discovery begins again. Help us extend this opportunity to a greater number of worthy applicants! With a gift of $40,000, you can independently sponsor one DIG applicant. And, the chances are strong that your initial gift will be matched or multiplied in the future by extramural funding sources. Please consider making a donation of any amount to support this worthy cause.
Applications and questions should be submitted to Miriam Treggiari, MD, PhD, MPH, vice chair for research.
A Statement of Intent

Overview of Research Plan and Relevance to Follow-on Funding (one page total max)
Preliminary Budget (Budgets should not include salary support for a faculty, resident, or fellow)
List of Collaborators
Pre-proposal Deadline: Monday, August 8

NIH R03-like Application Format

Up to one page for Specific Aims and up to six pages for the research plan (background, preliminary data and/or rationale, experimental plan, description of roles of scientific team members, timeline for milestones and completion, and a detailed definition of plans to advance work beyond this funding interval).
A major criterion for funding will be the plan for and likelihood of follow-on extramural funding resulting from this project.
All pages are to be single-spaced in 11 point Arial font.
Appendices will not be considered.
Submission Deadline: Friday, September 9

Final applications must be submitted in a PDF format as a single document and include the final abstract, budget, biosketches of key personnel, specific aims, and research plan.
All complete submissions will undergo review and selection by the Review Committee. Written critiques will be provided to the applicants.
Winners will be announced in fall of 2022.
Want to find out how to turn $1,021,109 into more than $17 million dollars? Just ask 12 of our DREAM Innovation Grant (DIG) recipients, who have each used their seed money from the DIG program to obtain extramural support for their innovative research studies. The generous support of our donors is what has given the following researchers the opportunity to expand their studies and advance the field of anesthesia!
Miles Berger, MD, PhD, whose July 2020 project, titled "Proteomic Determination of APOE4-Induced Neuroinflammation in the Pathogenesis of Alzheimer's Disease," received a two-year, $200,000 Ann B. Bussel Research Award from the Ruth K. Broad Biomedical Research Foundation. Learn More
Andrea Nackley, PhD, whose September 2019 project, titled "Defining the Role of Peripheral Adrb3 in Chronic Pain and Inflammation," received a five-year, $2,623,436 R01 Award from The National Institutes of Health/National Institute of Neurological Disorders and Stroke. Learn More
Jamie Privratsky, MD, PhD, whose March 2019 project, titled "The Role of the IL-1 Receptor in the AKI to CKD Transition," received a five-year, $939,324 K08 award from the National Institutes of Health/National Institute of General Medical Sciences. Learn More
Miles Berger, MD, PhD, whose July 2018 project, titled "A Phase II Study of an ApoE Mimetic Peptide to Reduce Postoperative Delirium, Cognitive Dysfunction After Non-Cardiac Surgery in Older Adults," received a five-year, $1,631,197 award from the Alzheimer's Drug Discovery Foundation.
Niccolò Terrando, BSc, DIC, PhD, whose September 2017 project, titled "Neurovascular Dysfunction in Delirium Superimposed on Dementia," received a five-year, $2,815,756 R01 Award from The National Institutes of Health/National Institute on Aging (NIH/NIA). Learn More
Miles Berger, MD, PhD, whose July 2017 research project, titled "Neuro-inflammation in Postoperative Cognitive Dysfunction: CSF and fMRI Studies," received a five-year, $1,195,505 Paul B. Beeson Emerging Leaders Career Development Award in Aging (K76) grant. Learn More
Joseph P. Mathew, MD, MHSc, MBA, FASE, whose 2016 research entitled, "Cognitive Effects of Body Temperature During Hypothermic Circulatory Arrest," received a five-year, $3.5 million National Institutes of Health and the National Heart, Lung, and Blood Institute (R01) grant award. Learn More
Boyi Liu, PhD, whose 2016 research entitled, "Mechanisms of Itch in Poison Ivy-Induced Allergic Contact Dermatitis," received a two-year, $384,780 National Institute of Arthritis and Musculoskeletal and Skin Diseases (NIH) grant award. Learn More
Thomas Van de Ven, MD, PhD, whose 2014 research entitled, "Chronic Pain after Amputation: Inflammatory Mechanisms, Novel Analgesic Pathways, and Improved Patient Safety," received a three-year, $1.5 million Department of Defense (DoD) Neurosensory Research grant renewal for his VIPER (Veterans Integrated Pain Evaluation Research) study. Learn More
Miles Berger, MD, PhD, who in May of 2014, was awarded a two-year, $150,000 International Anesthesia Research Society Mentored Research Award, entitled, "The trajectory and significance of perioperative changes in AD biomarkers." Learn More
Huaxin Sheng, MD, who in the Summer of 2014, was awarded $256,929 by the Department of Defense to the University of Alabama/Birmingham with a sub-award to Duke University/Dr. David Warner for his follow up DIG research entitled, "Treatment of Neuropathic Pain after SCI with a Catalytic Oxidoreductant." Learn More
Michael Manning, MD, PhD, whose 2013 DIG research entitled, "Cardiopulmonary Bypass Induced Inflammatory Changes in the Atrial Wall: The Novel Role for Cardiac Chymase produced Angiotensin II in the Development of Atrial Fibrillation," was awarded a two-year, $50,000 Society of Cardiovascular Anesthesiologists (SCA) Starter Grant. Learn More
Karthik Raghunathan, MD, MPH, whose 2013 DIG research entitled, "Comparative effectiveness in Perioperative and Critical Care Medicine: Crystalloid Fluid Therapy," received a $206,944 grant from the Baxter Healthcare Corporation Fluids franchise, and a $100,000 APSF/ASA Endowed Research Award from the APSF Scientific Evaluation Committee. Learn More
Mihai V. Podgoreanu, MD, FASE, whose 2012 DIG research entitled, "Elucidating Adaptive Mecha­nisms of Perioperative Cardio­protection Following Ischemia-reperfusion in Hibernating Arctic Ground Squirrels," received a $75,000 Foundation for Anesthesia Education and Research Grant, and a $10,000 Duke SOM voucher award. Learn More
Joseph P. Mathew, MD, MHSc, MBA, FASE, whose 2011 DIG research entitled, "Functional Neuroimaging to Assess Cognitive Function after Cardiac Surgery," received a two-year, $431,750 Exploratory/Developmental research grant from the National Heart, Lung, and Blood Institute. Learn More
Wei Yang, PhD, whose 2011 DIG research entitled, "Role of SUMO2/3 Conjugation Pathway in Cerebral Ischemia/Stroke," was awarded a four-year, $308,000 NCRP Winter 2012 Scientist Development Grant from the American Heart Association. Learn More