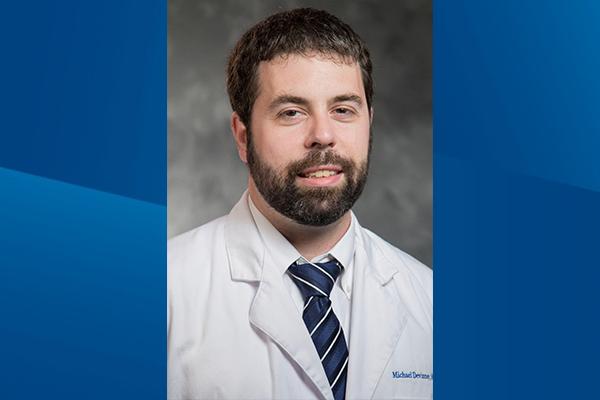 The National Alzheimer's Coordinating Center (NACC) has awarded Duke Anesthesiology's Michael Devinney, MD, PhD, a $135,000 New Investigator Award for his project titled, "Proteomic Determination of Complement Activation in Postoperative Delirium."
The New Investigator Award recognizes promising early-career investigators from across the Alzheimer's Disease Research Centers (ADRC) Program to support their career development and advance their research on Alzheimer's disease related dementia.
Devinney's work uses translational neuroscience approaches, including cerebrospinal fluid molecular assays, to identify mechanisms of postoperative delirium. By using proteomic methods, this New Investigator Award project will enable determination of cerebrospinal fluid complement pathway activation in postoperative delirium and potentially shed insight into mechanisms involved in subsequent Alzheimer's disease and related dementia.
"I am thrilled that the National Alzheimer's Coordinating Center review committee was impressed by this project. This recognition is important because it shows that Alzheimer's disease researchers clearly see value in our work measuring delirium biomarkers in pre- and postoperative cerebrospinal fluid," says Devinney, assistant professor of anesthesiology. "The creation of our perioperative cerebrospinal fluid biorepository has been a tremendous team effort, so I really am grateful for the incredible collaborative environment here. Everyone involved, including many departmental faculty and staff, should be extremely proud of this recognition."
The NACC Steering Committee formally announced Devinney's award at the Spring ADRC Meeting in early May in Washington DC.