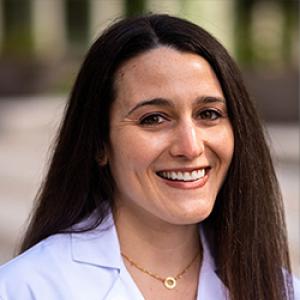 Assistant Professor of Anesthesiology
2021 DIG Research Project | "Myocardial Dysfunction and Cardiac Metabolism in Preeclampsia"
Background
Marie-Louise Meng, MD, is a physician-scientist within Duke Anesthesiology with specialty board certification in anesthesiology from the American Board of Anesthesiology. Meng is a member of the department's Women's Anesthesiology Division, where she practices as an obstetric anesthesiologist in the Duke Birthing Center and a member of the Cardiothoracic Anesthesiology Division, where she practices as a cardiothoracic anesthesiologist. She is an active member of several national societies, including the American Society of Anesthesiologists and the Society for Obstetric Anesthesia and Perinatology (SOAP), the Society of Cardiovascular Anesthesiologists and the American Society of Echocardiography. She has been invited to present at national and international meetings on topics such as maternal cardiac disease, pulmonary hypertension and pregnancy, echocardiography in pregnancy and updates on obstetric anesthesiology. She has published numerous peer-reviewed publications.
Meng grew up in East Norwich, New York. As an undergraduate, she attended Dartmouth College where she majored in biochemistry. During her time there, she first participated in research where she examined breast cancer tumor metabolism in the laboratory of Dr. William Kinlaw, III. Meng obtained her medical degree from Harvard Medical School where she participated in a genome wide association study of QT interval prolongation in the laboratory of Dr. Christopher Newton-Chen. She then completed her anesthesia residency at Columbia University Irving Medical Center. Following residency, she went on to pursue both obstetric anesthesiology (2014-2015) and adult cardiothoracic anesthesiology (2015-2016) fellowships at Columbia University Irving Medical Center, where she participated in numerous research projects under the mentorship of Dr. Richard Smiley. Meng was awarded the SOAP Young Investigator Grant in 2016 to study the epigenetics of postpartum preeclampsia. While at Columbia, she led a multicenter registry of pulmonary hypertension in pregnancy, which she continues here at Duke. Meng was an assistant professor of anesthesiology at Columbia University Irving Medical Center for more than three years before joining Duke Anesthesiology faculty, where she continues to pursue research and practice as a physician-scientist in both obstetric and cardiothoracic anesthesiology.
Research
Meng's research interests involve investigating strategies for early identification of women at risk of developing acute cardiovascular disease associated with preeclampsia. She also studies racial and ethnic disparities in care and outcomes in women with pregnancies complicated by preeclampsia or cardiac disease. Preeclampsia, a hypertensive disorder of pregnancy, complicates eight percent of pregnancies and disproportionately affects Black women. It is a leading cause of maternal mortality and is a predictor of cardiovascular disease later in life. Postpartum complications, such as heart failure, pulmonary edema and renal failure, are higher in women with preeclampsia. Risk factors for preeclampsia overlap with risk factors for cardiovascular disease (dyslipidemia, insulin resistance, endothelial dysfunction, and increased inflammatory response). The etiology of the association between preeclampsia and postpartum cardiovascular disease is unknown, and Meng aims to elucidate the mechanisms leading to morbidity and mortality related to preeclampsia.
DREAM Innovation Grants (DIG) support innovative high-risk and potentially high-reward investigations to accelerate anesthesia and pain management research and are made possible through Duke Anesthesiology's Duke DREAM Campaign. Meng is excited to have received a 2021 DIG to further pursue studies examining the role of echocardiography and biomarkers in identifying women at risk of cardiovascular complications after pregnancies complicated by preeclampsia. 
The work will be performed under the guidance of a multidisciplinary team of mentors and collaborators, including Dr. Svati Shah (Duke Cardiology), professor of medicine and associate dean of genomics, Dr. Ashraf Habib (Duke Anesthesiology), professor of anesthesiology with tenure and chief of the Women's Anesthesiology Division, and Dr. Jennifer Gilner (Duke Obstetrics and Gynecology), medical director for the Duke University Hospital Birthing Center.
The awarded DIG funds are expected to generate preliminary data for future grant applications that will allow Meng to establish herself as an independent investigator.