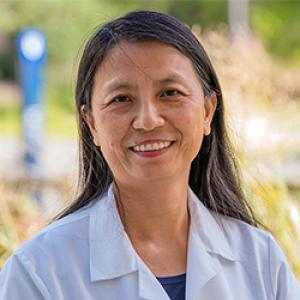 Former Assistant Professor in Anesthesiology
2018 DIG Research Project | "The Role of Sirtuin-3 in Neuroinflammation and Perioperative Cerebral Injury"
Background
Qing Ma, MD, was a former assistant professor within Duke Anesthesiology at Duke University Medical Center. She is also a basic scientist with expertise in several preclinical animal (mouse, rat, squirrel) models of organ (brain, heart, kidney, small intestine) ischemia-reperfusion (IR) injury after major surgeries, including cardiopulmonary bypass (CPB) and deep hypothermic circulatory arrest (DHCA). Dr. Ma is an active member of several national and international societies, including the Society of Cardiovascular Anesthesiologists, where she was funded a Mid-Career Scientist Award in 2009. Dr. Ma has given multiple presentations and lectures, as well as written and published several peer-reviewed papers within her field.
Dr. Ma is originally from Nanjing, China and received her first doctoral degree in medicine at Zunyi Medical College (ZMC) at Zunyi, China. While she was working as an anesthesiologist and lecturer in anesthesiology, she received her master's degree in anesthesiology at ZMC. As an assistant professor and anesthesiologist, she moved to the Hebei Medical University in Shijiazhuang, China in 1990. Three years later she was honored as a vice chairperson in the Department of Anesthesiology and promoted to associate professor in anesthesiology at the Hebei Medical University in 1995. Dr. Ma moved to Germany and received her second doctoral degree in medicine at the Aachen University of Technology in 1997. During her time there, she discovered that moderate hypothermia during CPB inhibits leukocyte activation and regulates cytokine balance in order to reduce postoperative organ damage at levels of gene expression and protein product in a pig model of CPB/CA. Her work had already begun to have a significant impact in the field of postoperative organ dysfunction.  She completed her postdoctoral training at the IZKF "Biomat" Center, RWTH Aachen University and the German Heart Center Munich, specifically focusing on the mechanisms/pathways associated with cardioprotection following cardiac surgery in both pigs and humans.
In 2005, Dr. Ma joined Duke Anesthesiology as a research-scientist. Along with her colleagues, she created several research projects for perioperative organ protection and established relevant experimental models, specifically focusing on protecting the brain from IR injury after cardiac surgery. She discovered and defined the novel targets associated with perioperative neuroprotection after CPB/DHCA. She was promoted to assistant professor in anesthesiology at Duke University Medical Center in 2011. According to Dr. Ma, Duke Anesthesiology creates a unique opportunity to bridge basic science with pioneering clinical research in the context of perioperative neuroprotection after major surgeries, including cardiac surgery. She believes this innovative, collaborative, multidisciplinary environment is shaping the future of anesthesiology and perioperative medicine.
Research
According to Dr. Ma, major surgeries, including cardiac surgery, often cause neurological complications and in some cases permanent dementia, especially to older and frail patients. There are currently no safe and effective therapies to prevent or limit these complications in patients. Emerging evidence from both human and animal studies highlights an association between surgery and long-term neurocognitive impairments, making perioperative cognitive dysfunction (POCD) a major public health issue.
To address the pathogenesis of anesthesia and surgery-induced organ injury, including cognitive decline, Dr. Ma developed several preclinical experimental IR models across species (mouse, rat, and squirrel) in major organs (brain, heart, and kidney) after major surgeries (CPB/CA, CPB/DHCA, LAD ligation, and Sepsis). Using translational approaches, she and her colleagues characterized a key role of a major mitochondrial protein enzyme sirtuin 3 (SIRT3) in neuroprotection after major surgeries, including cardiac surgery. They also described a role of SIRT3 in the innate immune response, including pro-inflammatory cytokines and NLRP3 inflammasome in mediating neuroinflammation and cognitive decline. Importantly, they developed a novel agent (ie: annxin a1 tripeptide or ANXA1sp) that modulates anti-inflammatory and pro-resolving mechanisms/pathways to limit neuroinflammation, restoring cognitive function in their relevant preclinical surgical models.
DREAM Innovation Grants (DIG) support innovative high-risk and potentially high-reward investigations to accelerate anesthesia and pain management research and are made possible through Duke Anesthesiology's Duke DREAM Campaign. The 2018 DIG will assist Dr. Ma and her colleagues in further researching the crucial role of SIRT3, a NAD+-dependent mitochondrial deacetylase, in limiting/pro-resolving neuroinflammation and preventing perioperative cerebral injury (PCI) after cardiac surgery. With the support from the DIG, Dr. Ma will foster a multidisciplinary and translational approach to establish novel methodologies in understanding how the brain is affected by anesthesia and surgery. This initial data will help Dr. Ma submit a National Institutes of Health grant. Ultimately, her long-term goal is to identify novel targets for the neuroprotection associated with major surgeries and develop simple, safe and effective therapeutics for surgical patients.