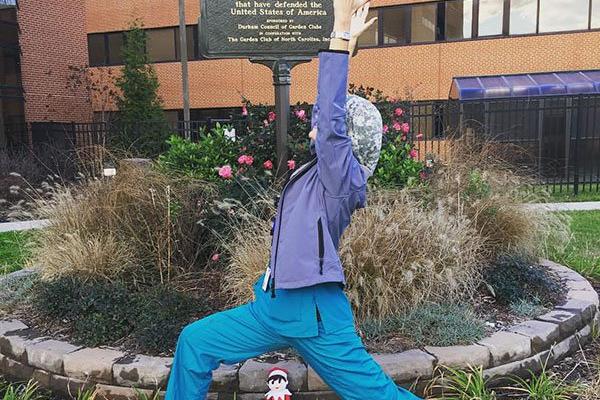 Q: How is Veterans Affairs an integral part of Duke Anesthesiology's Residency Program?
A: "To care for him who shall have borne the battle and for his widow and his orphan" was declared by President Abraham Lincoln in 1865 at his second inauguration and remains the motto of the U.S. Department of Veterans Affairs (VA). Though I am not a veteran (30 percent of VA employees are veterans), I have been proud to serve these amazing patients in my own way for almost 30 years at the Durham VA Medical Center. We are located right across the road from Duke University Hospital, but our learning environment is very unique.
Duke Anesthesiology's Veterans Affairs Anesthesiology Service Division consists of 21 physicians and 17 full-time CRNAs, as well as physician assistants, nurse practitioners, health technicians, RNs and administrative personnel. We provide care in the operating rooms (OR) as well as non-OR sites, such as Gastroenterology (GI), Interventional Radiology, Electrophysiology Lab, Cardiothoracic (CT), Pain Clinic, Surgical Intensive Care Unit (SICU), Transesophageal Echocardiography (TEE) service, and 4B/Short Stay Unit.  With the aging veteran demographics in North Carolina, the conflicts in the Middle East and the health care needs in our country, the VA division's workload is exploding. Last year, we performed more than 8,000 anesthetics; following the national trend, our non-OR cases comprised almost 30 percent of our caseload. Based upon standard productivity calculations, we are currently the fifth most productive VA anesthesiology service in the nation. We administer anesthesia for almost every specialty you can imagine, except for obstetrics and pediatrics. We are even increasing our workload in some minor specialties such as podiatry, oral surgery and radiation oncology.
Veterans Affairs is an excellent place to train due to many factors: complex patients and cases, variety and severity of disease, and unique patient medical issues such as post-traumatic stress disorder (PTSD), traumatic brain injury (TBI), substance use, geriatrics, and other disabilities related to military service. In fact, the VA is the largest provider of health care training in the United States. In FY 2014, VA clinical training across the nation involved more than 120,000 interns, residents, fellows and students in more than 40 professions. In Durham, the VA funds the salaries of eight of our anesthesiology residents and fellows annually.
The VA is also a leader in local and national research and innovation. Several members of our division participate in cutting edge research involving data analytics, epidemiology, quality and safety, chronic pain, opioid safety, post amputation pain, and other areas of perioperative medicine. Did you know that the first long-term successful kidney transplant was performed at a VA hospital and also that a Durham VA researcher developed the nicotine patch?  Our VA division is also administratively active. Anesthesiologists lead the Pharmacy & Therapeutics Committee, the Transfusion Committee, Critical Care Committee, and the Interdisciplinary Pain Clinic.
Despite all of these wonderful accomplishments, the VA still has a lot of work to do to fulfill President Lincoln's plan. Our number one priority is increasing access for more than 11 million living veterans and to do it in a way that respects all of the unique needs and challenges that this population faces. As a distinctive microcosm of the Duke Anesthesiology Residency Program, the VA division rotation will expose residents to an awesome responsibility to assist the men and women who served our county and, quoting President Lincoln, "borne the battle."
---