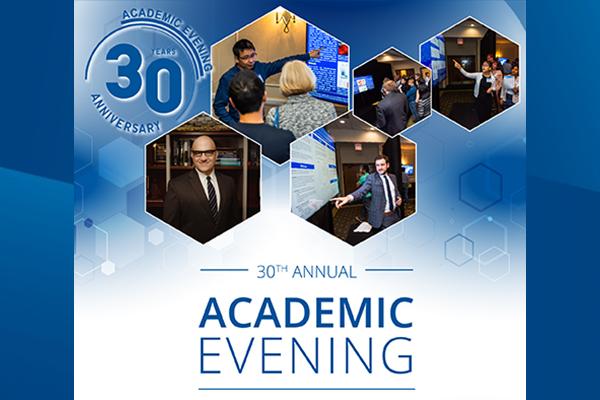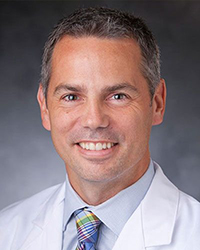 After two years of observing scholarly activity and scientific excellence on a virtual platform due to the COVID-19 pandemic, members of Duke Anesthesiology returned to gathering in-person this year to celebrate a special 30th anniversary of Academic Evening. Three decades since its inception, science and discovery have progressed, but the goal of the event has remained constant—to advance anesthesia, critical care and pain management—which ultimately enhances the care of patients.
This year, a near record-breaking 91 poster abstracts—ranging from basic science, clinical trials and case reports—were submitted and showcased by junior-level investigators and faculty at Duke Anesthesiology's 30th Annual Academic Evening, which took place on May 10 at the Millennium Hotel Durham.
"We were thrilled to be back in person and to watch all of our brilliant, innovative and talented colleagues presenting their research," says Dr. Jeffrey Gadsden, event chair and associate professor of anesthesiology. "It's truly humbling and inspiring to see the sheer talent and ideas that our department produces. It was especially gratifying to see how much research was carried out by trainees—these are busy residents and fellows with often grueling clinical schedules, and the fact that they are mentored to prioritize clinical and basic science investigation while training is simply amazing.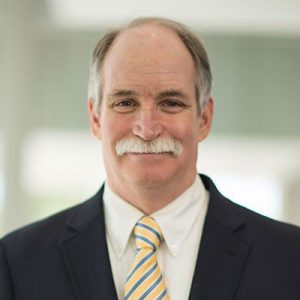 With his family in attendance, the late Dr. David S. Warner (who served as former event chair and vice chair for research) was honored during the evening not only for his key role in the event, but for the integral role he played in mentoring numerous investigators and advancing both basic science and clinical research within the department for nearly 30 years. Duke Anesthesiology chairman, Dr. Joseph Mathew, opened the evening by announcing the newly-named David S. Warner Award for post doc basic science research and then ringing Warner's bell, signifying the beginning of presentations. Dr. Ravikanth Velagapudi received first place in this category for his project titled, "Percutaneous Vagus Nerve StimulationAttenuates Postoperative Aβ Deposition in a Mouse Model of Delirium Superimposed on Dementia."
"I am deeply honored and pleased to receive this prestigious award," says Velagapudi. "I appreciate my hard work being recognized, and I am extremely thankful to my mentor, Dr. Niccolo Terrando, for his continuous support in bringing this study to fruition."
One of the anticipated highlights of the annual event is the presentation of the Bill White Award for resident research. White was involved in the design, data control and examination, and statistical analysis of biomedical studies in both observational and clinical trials within Duke Anesthesiology for more than 20 years. Dr. Benjamin Andrew received first place in this category for his project titled, "Effects of the Pecto-Intercostal Fascial Plane Block on Postoperative Analgesia Following Pediatric Cardiac Surgery."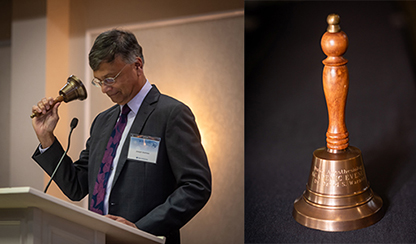 "I'm honored that this work was recognized at Academic Evening. I have been exceptionally lucky to have outstanding mentorship and support for my research pursuits over the past several years of residency and this project was no exception," says Andrew. "It was a great experience to work closely with the senior author, Dr. Lisa Einhorn, from the study's inception through to the final outcome, and I'm looking forward to continuing this work with her in the future!"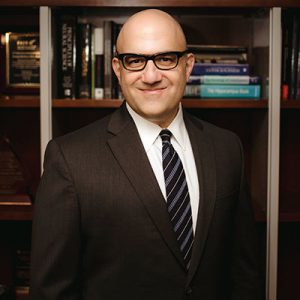 Dr. George Mashour, chair of the Department of Anesthesiology at the University of Michigan School of Medicine, was selected to serve as this year's guest judge. In this role, he received the honor of determining the award winners in each category.
"I was extremely impressed by the breadth and depth of the research accomplishments—Duke is clearly a top-tier academic anesthesiology department making major contributions to the field," says Mashour. "It is exciting to see such a vibrant and thriving community of scholars in anesthesiology."
"Dr. Mashour was a wonderful guest judge. He was thoroughly engaged with all of the presenters and provided each of them with thoughtful questions, feedback and kind words of encouragement throughout the evening," adds Gadsden.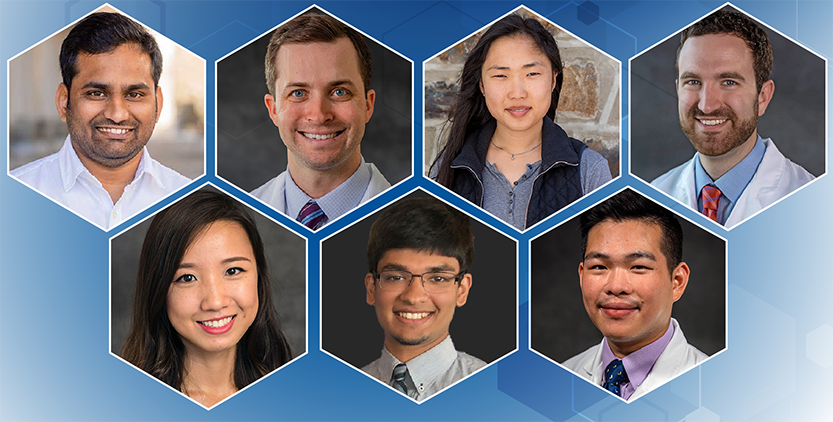 2022 Academic Evening Award Winners:
Post Doc Basic Science Research (David S. Warner Award)
1st Place: Ravikanth Velagapudi, "Percutaneous Vagus Nerve StimulationAttenuates Postoperative Aβ Deposition in a Mouse Model of Delirium Superimposed on Dementia"
2nd Place: Yaomin Wang, "Adipocyte Adrb3 Receptor Mediates Mechanical Hypersensitivity in Chronic Overlapping Pain Conditions"
3rd Place: Sangsu Bang, "Oral Administration of Anti-Malaria Drug Artesunate can Reduce the LPS Induced Septic Death and Inflammation"
Fellow Clinical Research (Dick Smith Award)
1st Place: Rose Tang, "The Choice of Opioid Infusion for Thoracolumbar Spine Surgery and Long-Term Opioid Use"
2nd Place: Gabrielle Madsen, "Achievement of Textbook Outcome in Pulmonary Hypertension Patients After Lung Transplantation: Comparing Planned MCS Modes"
3rd Place: H. Douglas Wackerle, "Differences in Death, Hospitalization, and Emergency Department (ED) Visits Following Coronary Artery Bypass Grafting (CABG) in the Veterans Health Administration (VHA) Between 2000 and 2016"
Resident Research (Bill White Award)
1st Place: Benjamin Andrew, "Effects of the Pecto-Intercostal Fascial Plane Block on Postoperative Analgesia Following Pediatric Cardiac Surgery"
2nd Place: Andrew Breglio, "Mechanisms of Autologous Conditioned Serum-Mediated Resolution of Chronic Neuropathic Pain"
3rd Place: Alex Girden, "Interscalene Block with Liposomal Bupivacaine Versus Continuous Interscalene Catheter in Primary Total Shoulder Arthroplasty"
Medical Student Research
1st Place: Jake Thomas, "Postoperative Changes in the Cerebrospinal Fluid Proteome Suggest a Role of the Complement Pathway in Postoperative Delirium"
2nd Place: Jordan Hatfield, "Risk Factors and Neurologic Outcomes Associated with Circulatory Shock Following Moderate-Sever Traumatic Brain Injury: A TRACK-TBI Study"
CRNA/DNP/Grad/Undergrad Research
1st Place: Eden Deng, "Evaluation by Survival Analysis of Cold Pain Tolerance in Patients with Fibromyalgia and Opioid Use"
Case Report
1st Place: Trung Pham, "Freeing the Incarcerated Uterus: Balancing Maternal and Fetal Benefits"
Quality Improvement
1st Place: Henry Lather, "Promotion of Low Fresh Gas Usage During an Inhalational Anesthetic: A Safe, Environmentally Accountable, and Financially Responsible Practice"