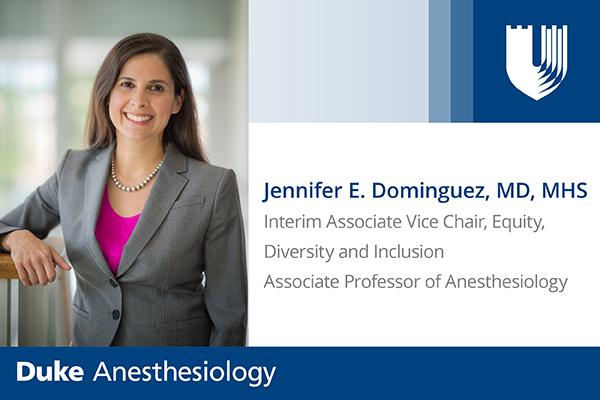 We are pleased to announce that Jennifer E. Dominguez, MD, MHS, has been appointed the interim associate vice chair for equity, diversity and inclusion, effective March 1.
Equity, diversity and inclusion (EDI) are essential components of academic medicine, both to promote equity and fairness among our team members, and to fulfill our department's and School of Medicine's shared mission for excellence in education, research and clinical care.
In her new role, Dr. Dominguez will lead and develop a more robust and comprehensive Duke Anesthesiology Equity, Diversity and Inclusion Program. The mission of this program is to cultivate a just and inclusive culture in which individuals thrive and are dedicated to alleviating suffering, improving health and well-being, and promoting social justice for all through excellence in innovation, education, research, service, and professional growth. 
Our department's EDI Program will build upon the work of our Anesthesiology Inclusivity Committee (AIC), established more than a decade ago. The program will consider and represent the interests and needs of faculty, trainees and staff while furthering its vision of eliminating health disparities in perioperative and pain medicine. Dr. Dominguez will collaborate with members of the department to develop a strategic plan for EDI that will move the program towards realization of its vision and mission, in alignment with overall departmental and School of Medicine strategy and values. Dr. Dominguez will also oversee the program and implement strategy along these five strategic pillars: 1) representation; 2) education; 3) environment and culture; 4) quality and patient care; and 5) research. She will serve as a member of the Duke Anesthesiology Leadership Council and represent the department within the School of Medicine's EDI Leader Council.  
"I am excited to be entrusted with the opportunity to serve the members of this department and to advance health equity within our specialty. This work must be collaborative, and I look forward to building and strengthening partnerships with many individuals working across our department's mission to advance this work," says Dr. Dominguez.
Dr. Dominguez has been an integral member of our department's Anesthesiology Inclusivity Committee since she joined faculty in 2013. In 2020, she and Dr. Adeyemi Olufolabi were appointed co-chairs of the EDI Program. During her time in this role, Dr. Dominguez has helped to strengthen and further equity, diversity and inclusion within our department. She has engaged with departmental leaders to improve trainee and faculty recruitment and retention, to expand educational offerings, to champion collaboration for health disparities research and quality improvement initiatives, and to build community for members of our department who are underrepresented in medicine. She is a member of the Faculty Development Leadership team and has served on several faculty search committees. She also engages with other EDI leaders from the School of Medicine and university on a regular basis as our department's EDI delegate. Nationally, she is the chair of the Society for Obstetric Anesthesia and Perinatology's Trainee Curriculum Sub-committee and a member of its Governance and Diversity, Equity and Inclusion Committees, as well as a member of the first Council of Anesthesiologists for the National Hispanic Medical Association.
Dr. Dominguez received her medical degree and a masters in health sciences from Yale University, where she also completed an anesthesiology residency. She went on to complete an obstetric anesthesiology fellowship here at Duke before joining the department as faculty. Dr. Dominguez was appointed program director of our Obstetric Anesthesiology Fellowship in 2016 - a position in which she will continue to serve. She also serves as a course instructor for the School of Medicine's Cultural Determinants of Health course. 
Please join us in congratulating Dr. Dominguez on her new leadership role in our department.