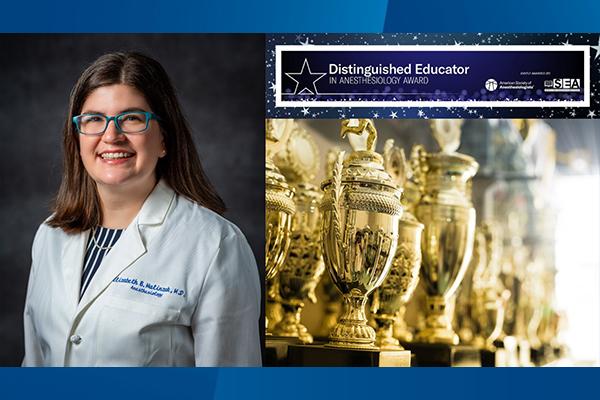 The American Society of Anesthesiologists (ASA) and the Society for Education in Anesthesia (SEA) have selected Duke Anesthesiology's Elizabeth Malinzak, MD, FASA, as a 2023 recipient of the ASA-SEA Distinguished Educator in Anesthesiology Award.
This honor promotes the connection between education and superior patient care and recognizes individuals who have made significant contributions to the advancement and sharing of anesthesiology knowledge. Award recipients are a part of a select group of anesthesiologists who are advancing patient care through education.
"I am thrilled to be recognized for my achievements in medical education at the local, regional and national levels by these two great organizations," says Malinzak, associate professor of anesthesiology. "It is an honor to be part of a group of recipients whom I admire and respect for their innovations in education and dedication to lifelong teaching and learning, including several Duke Anesthesiology alumni."
The Distinguished Educator in Anesthesiology Award celebrates anesthesiologist educators who are dedicated to teaching and advancing anesthesiology or other health care education. Award recipients will have pursued unique opportunities in education-related leadership in their departments, institutions, professional societies, or specialty, and often will have published high quality education-related peer-reviewed articles that provide new insights into anesthesiology or other health care education. Additionally, many awardees will have made education-related presentations at national specialty or education meetings and attained national visibility for their education efforts.
Malinzak currently serves as Duke Anesthesiology's director of medical student education, and is the past chair of the ASA's Committee on Young Physicians and past president of Women in Anesthesiology.