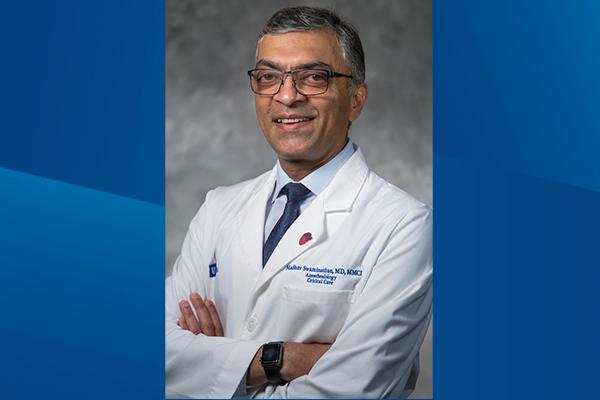 The American Society of Echocardiography (ASE) has named Duke Anesthesiology's Madhav Swaminathan, MD, MMCi, FASE, the 2023 recipient of its Outstanding Achievement in Perioperative Echocardiography Award. This award recognizes his achievement of significant clinical, research and/or education in the field of perioperative echocardiography.
"It is a huge honor to receive this award," says Swaminathan, vice chair for faculty affairs and professor of anesthesiology. "To be recognized by your peers is an honor beyond compare. I am indebted to the giants in perioperative echo at Duke who mentored me and paved the way for this award, including Drs. Joseph Mathew, Fiona Clements, Jonathan Mark, Pamela Douglas, and Joseph Kisslo; and to the trainees over the years at Duke who made this worthwhile. It would never have been possible without the encouragement and support of my family every step of the way."
In a historic moment in 2019, Swaminathan took the helm as president of ASE – marking the first time that an anesthesiologist has been elected to head ASE in its 44-year history. Prior to ascending to president, Swaminathan became the first anesthesiologist to be appointed as ASE's vice president and also served as president-elect. 
Swaminathan has assumed roles on several ASE committees, including chair of the Membership Committee and chair of the Council on Perioperative Echocardiography. He has also served on the Industry Relations Committee, Education Committee, and as co-chair and chair of the Perioperative Echocardiography track for ASE's Scientific Sessions from 2011-2015. Notably, he was the first anesthesiologist selected to deliver the prestigious Feigenbaum Lecture at ASE's Scientific Sessions in 2015, and the Edler Lecture in 2021.
According to Swaminathan, Duke Anesthesiology has been a leader in the field of perioperative echocardiography since its inception. Swaminathan is the third Duke Anesthesiology faculty to receive ASE's Outstanding Achievement in Perioperative Echocardiography Award. Dr. Solomon Aronson received this honor in 2019; Dr. Jonathan Mark in 2018. During Swaminathan's 22 years with Duke Anesthesiology, he served for ten years as director of Perioperative Echocardiography Services and three years as clinical director of Cardiothoracic Anesthesiology and Critical Care.
A luminary of ASE will announce Swaminathan's award at the 34th Annual Scientific Sessions on Saturday, June 24, 2023, during the Annual Awards Presentations and Edler Lecture session.