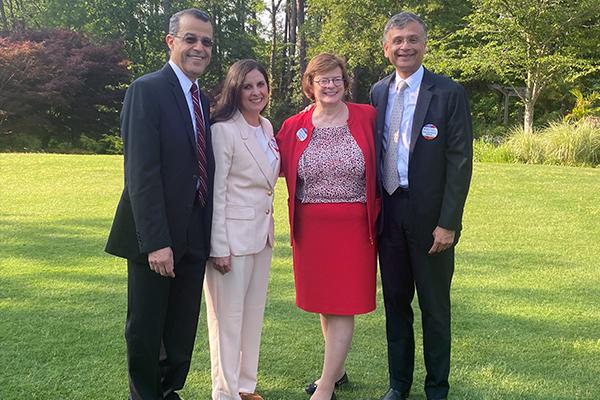 The Duke University School of Medicine has selected four Duke Anesthesiology faculty members as recipients of a 2023 Faculty Award. Jennifer Dominguez, MD, MPH, earned the Excellence in Professionalism Award; Ashraf Habib, MBBCh, MSc, MHSc, FRCA, and Catherine Kuhn, MD, both earned the Leonard Palumbo Jr., MD, Faculty Achievement Award; and Chairman Joseph Mathew, MD, MHSc, MBA, earned the Research Mentoring Award.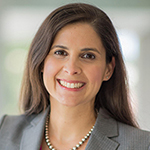 Dominguez's award highlights the importance of promoting ethical, professional behavior within the Duke community and recognizes a faculty member who exemplifies professionalism and personifies Duke's guiding principles of respect, trustworthiness, diversity, teamwork, and learning. Dominguez joined Duke faculty in 2013 and is an associate professor of anesthesiology, program director of the Obstetric Anesthesiology Fellowship, and the interim vice chair for equity, diversity and inclusion.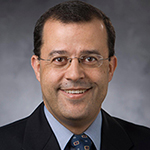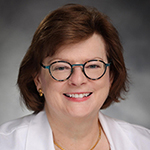 Habib and Kuhn's award honors faculty members who display both a dedication to compassionate patient care and excellence in the teaching and mentoring of young physicians. This award is named for Dr. Leonard Palumbo Jr., who completed his undergraduate and medical degrees, as well as his clinical training, here at Duke. Palumbo was a compassionate and empathetic clinician and a dedicated and talented educator. His commitment to both patients and students inspired the establishment of this award in 1999 by his brother, also a Duke alumnus, Mr. Art Palumbo. Habib joined Duke faculty in 2000 and is a professor of anesthesiology and chief of the Women's Anesthesiology Division. Kuhn joined Duke faculty in 1991 and is a professor of anesthesiology and the associate dean for graduate medical education.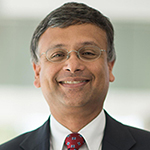 Mathew's award, in the Career Mentoring Award in Clinical Science category, recognizes faculty members for excellence in research mentoring. Mathew joined Duke faculty in 1998 and is the department's chairman and Jerry Reves, MD, Distinguished Professor of Cardiac Anesthesiology.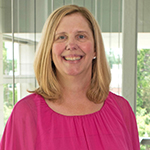 Nominees for the Michelle P. Winn Inclusive Excellence Award, including Nancy Knudsen, MD, were also recognized at this year's ceremony. Knudsen joined Duke faculty in 1996 and is a professor of anesthesiology and the associate dean for learning environment and well-being. This award recognizes individuals who have made significant contributions to diversity and inclusion within the school of medicine community. The intent is to honor faculty, learners, and staff who have exemplified a commitment to excellence, innovation and leadership through creating a more diverse and inclusive environment. 
Duke University School of Medicine's Dean Mary Klotman presented the awards to the recipients at the annual Spring Faculty Celebration on May 17 at the Doris Duke Center.