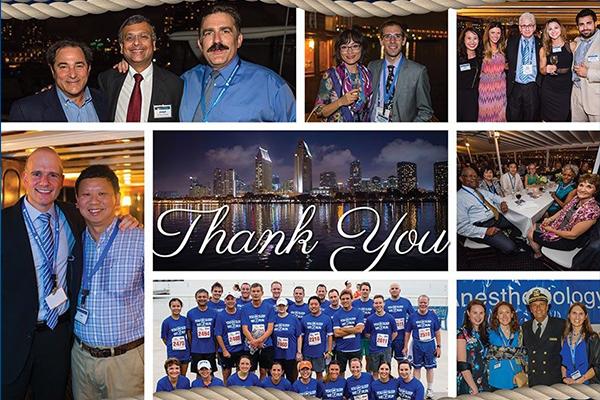 We would like to recognize all of our faculty, residents, fellows and staff who have made this year's American Society of Anesthesiologists (ASA) Conference in San Diego a huge success! Duke Anesthesiology made a big impression at this year's event with faculty and staff taking part in at least 79 general and special lectures, workshops and abstract presentations. Please join us in congratulating Dr. David Warner for receiving the FAER Anesthesiology Mentoring Excellence in Research Award and Dr. Browndyke for winning Best of Abstracts: Clinical Science.
During the conference, we hosted Duke Anesthesiology's 27th Annual ASA Alumni Reception on the historic High Spirits yacht. One hundred and twenty guests (including alumni from around the world) joined us for a dockside reception and an evening cruise of the San Diego North Bay to the tune of live jazz music. It was a pleasure cruising under the stars together while toasting this year's triumphs, enjoying dinner with breathtaking views of the San Diego skyline, bidding on eleven silent auction items (graciously donated by our faculty) to benefit our department's Global Health Initiative, and more! These silent auction winners raised $4,671, including Dr. Warner who walked away with the most coveted prize of the night, a signed basketball by the 2015 NCAA Duke Men's Championship Team, with a winning bid of $1,250!
One of the most anticipated highlights of the evening was the announcement of the 2016 DREAM Innovation Grant (DIG) winners, presented by Dr. Warner. Congratulations to…
Anne Cherry, MD – Interface of Mitochondrial Dysfunction and Inflammation in Heterotopic Mouse Heart Transplant
Ulrike Hoffmann, MD, PhD – Argon as a potential therapeutic in stroke; Effects on Oxygen Utilization and Cerebral Blood Flow Response after Cortical Spreading Depression and Injury Depolarizations
Niccolò Terrando, PhD – The Systemic Milieu and its Role in Postoperative Cognitive Dysfunction
Our department launched the DIG in 2010 to support innovative high-risk and potentially high-reward investigations to accelerate anesthesia and pain management research. We received an exceptional number of seven DIG applications this year. Each DIG winner receives up to $30,000 in seed money for their pilot studies which ultimately helps them apply for and obtain extramural funding. To date, $452,900 in DIG donations have led to nearly $4 million in extramural funding. We especially want to express our appreciation to the DIG Application Review Committee, our donors from the past five years, and the two new donors who gave at our alumni event to support the DIG fund.
It was also another successful fundraiser at the 6th Annual ASA Sponsored Run For The Warriors 5k race, dedicated to the men and women wounded in Iraq and Afghanistan, their families and families of the fallen. For the fifth year in a row, team Duke Anesthesiology brought home first place, raising more funds than any other team at this year's event – a total of $8,433! All proceeds from the race benefit wounded warriors and their families through the many Hope For The Warriors® programs. Thank you to the 35 Duke Anesthesiology runners/walkers and to those who donated to this cause that is dear to our department. A special congratulations goes to Drs. Richard Moon, Wads Ames and Catherine Kuhn for being named the top three fundraisers of the entire event!
For a photo tour of all the events, please visit: http://anesthesiology.duke.edu/?page_id=832668. You can also view conference highlights provided by ASA TV: Saturday, Sunday, Monday.
We sincerely appreciate your continued support of Duke Anesthesiology and your commitment to leading the future of health care! Here's to a successful 2016 and we look forward to celebrating with you next October at our ASA alumni reception in the "windy city" of Chicago!