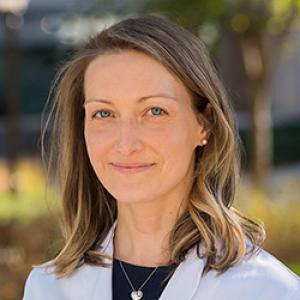 Assistant Professor in Anesthesiology
2020 DIG Research Project | "A Human Neuroimaging Investigation of the Imbalanced Spinal Cord in Fibromyalgia"
Background
Katherine Martucci, PhD is a neuroscientist within Duke Anesthesiology with doctoral training in neurobiology from Wake Forest School of Medicine (Department of Neurobiology and Anatomy) and postdoctoral training from Stanford University (Department of Anesthesiology, Perioperative and Pain Medicine).  Martucci is a member of Duke Anesthesiology's Center for Translational Pain Medicine where she conducts research on brain and spinal cord contributions to chronic pain. She is an active member of several national and international societies, including the International Association for the Study of Pain (IASP), the International Narcotics Research Conference (INRC), and the Organization for Human Brain Mapping (OHBM). She has been invited to such national and international meetings to present on her research, including neuroimaging of the brain and spinal cord in chronic pain and effects of opioids on brain and spinal cord processing in chronic pain. Martucci has published numerous peer-reviewed publications including a highly-cited review article on neuroimaging of pain published in the journal, Anesthesiology.  She is a recipient of the prestigious K99/R00 Pathway to Independence Award from the National Institute on Drug Abuse and several training grants from the National Institutes of Health.
Martucci is originally from Connecticut. As an undergraduate, she attended the University of Connecticut at Storrs where she majored in physiology and neurobiology. She was accepted into the graduate program at Wake Forest School of Medicine in North Carolina. Through strong mentorship under leading experts in the field of pain and neurobiology, she established a solid foundation for scientific investigation of basic mechanisms of pain processing and contributors to chronic pain. During her graduate training, Martucci was awarded a pre-doctoral fellowship grant from the National Institutes of Health and published several first author manuscripts. She then pursued post-doctoral training at Stanford University. She continued her study of chronic pain with a focus on neuroimaging of the brain in patients with chronic pelvic pain. As part of her NIH K99 fellowship award, she then pursued a new path of research focusing on brain and spinal cord alterations in fibromyalgia. Martucci joined Duke Anesthesiology faculty in late 2018 and serves as director of the Human Affect and Pain Neuroscience Laboratory (HAPNL). She is an active member and collaborator within the Duke Institute for Brain Sciences (DIBS) and the Brain Imaging and Analysis Center (BIAC) at Duke. Currently, Martucci continues to advance her research program on understanding the human brain and spinal cord in chronic pain.
Research
Martucci's research interests focus on the significant problem of chronic pain, which affects approximately 30 percent of the global population. While chronic pain is highly-prevalent and negatively impacts many lives, understanding of how central nervous system processing contributes to chronic pain is still unclear. Collectively, Martucci's research projects aim to advance understanding of how the central nervous system is altered in chronic pain to help identify new treatments and establish more effective clinical management of chronic pain. To study the brain and spinal cord in patients with chronic pain, Martucci uses advanced technology of functional magnetic resonance imaging (fMRI). This technology allows for measurement of brain and spinal cord activity in patients that can be compared to other individuals (healthy volunteers) who do not have chronic pain. Her laboratory also uses a variety of questionnaires about pain, mood and anxiety to understand how these factors contribute to altered central nervous system activity, as well as sensory tests to understand how individuals perceive various sensory stimuli like heat, cold, pressure, touch, and vibration. By using all of these tools, Martucci's long-term goal is to greatly improve understanding of chronic pain conditions and identify new and more effective ways of treating chronic pain.
DREAM Innovation Grants (DIG) support innovative high-risk and potentially high-reward investigations to accelerate anesthesia and pain management research and are made possible through Duke Anesthesiology's Duke DREAM Campaign. Martucci will use her awarded 2020 DIG to establish new research that will advance understanding of human spinal cord activity in patients with chronic pain. To date, only a handful of research sites globally have used fMRI to non-invasively measure human spinal cord activity. Martucci pioneered the use of spinal cord fMRI for chronic pain as part of her post-doctoral research at Stanford University. She then established the use of this novel and challenging technology at Duke University in early 2019.
The ability to conduct spinal cord imaging in humans is critical to future advancement of the understanding of chronic pain. The spinal cord is where nerves from the body and limbs connect with other hugely important nerves that regulate pain before the signals are sent up to the brain where they are at last recognized as pain. Tons of chronic pain research has focused on how spinal cord activity is altered in chronic pain using animal models. Studying the spinal cord in humans is very challenging because of its small size and location next to moving organs of the heart and lungs. However, recent technological advances have made spinal cord fMRI more possible, and in 2019, Martucci and her colleagues published the first evidence of imbalanced spinal cord activity at rest in patients with fibromyalgia, a condition of widespread pain. This finding indicates that increased pain and decreased non-painful sensations are being transmitted to the brain in a different way in patients with chronic pain. Martucci will advance the next steps for spinal cord research of chronic pain by further investigating the imbalanced spinal cord activity using a combination of imaging techniques and sensory tests. For this project, she and her laboratory will collaborate with Dr. Allen Song (Duke Radiology), an expert in neuroimaging, and Dr. Shad Smith (Duke Anesthesiology) for his expertise in subgrouping analysis to help identify different types of patient profiles related to different patterns of spinal cord activity.
The awarded DIG funds are expected to advance the understanding of spinal cord contributors to chronic pain in fibromyalgia and chronic pain more broadly. The new knowledge that will be gained from this research project is expected to reveal new avenues of scientific investigation and clinical management of chronic pain. Martucci will use the data obtained through this award to establish a strong program of nationally-funded research, focused short-term on human spinal cord contributors to chronic pain and long-term on the use of human spinal cord imaging to guide therapeutic prediction and evaluation in clinical management of chronic pain.