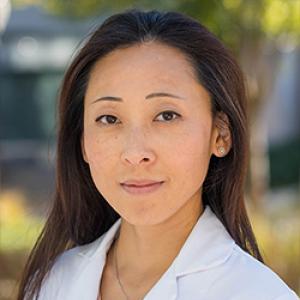 Assistant Professor of Anesthesiology
2020 DIG Research Project | "The Role of Cerebrospinal and Serum Inflammatory Biomarkers in Predicting Perinatal Depression and Persistent Pain After Cesarean Delivery"
Background
Mary Yurashevich, MD, MPH, is a physician-scientist within Duke Anesthesiology with specialty board certification in anesthesiology from the American Board of Anesthesiology. Yurashevich is a member of the department's Women's Anesthesia Division where she practices as an obstetric anesthesiologist in the Duke Birthing Center. She is an active member of several national societies, including the American Society of Anesthesiologists and the Society for Obstetric Anesthesia and Perinatology. Nationally, she has been invited to present at meetings on topics such as enhanced recovery after cesarean delivery, postoperative pain management following cesarean delivery and determinants of patient satisfaction with anesthesia care. She has published numerous peer-reviewed publications.
Yurashevich grew up in Cary, North Carolina. As an undergraduate, she attended the University of Pennsylvania where she majored in biology with a concentration on molecular biology and genetics. During her time there, she first participated in research where she examined linkage analysis for familial cases of Cornelia de Lange Syndrome in the Cytogenetics Laboratory of Dr. Ian Krantz for her senior research thesis. After undergraduate, she pursued her public health interest and attended the Mailman School of Public Health at Columbia University where she majored in environmental health sciences with a concentration on toxicology. It was during her time in her master's program while learning about pharmacokinetics that she realized a career in anesthesiology would combine her interest in pharmacology, physiology, patient care and public health. She continued with more schooling and obtained her medical degree from Robert Wood Johnson Medical School. She then completed her preliminary year internship at St. Mary Medical Center in Long Beach, California and continued on to anesthesia residency at Loma Linda Medical Center. During residency training, she was awarded the departmental award for Outstanding Research in Residency. Following residency, she went on to pursue an obstetric anesthesiology fellowship at Stanford University where she participated in numerous research projects. After fellowship, she joined Duke Anesthesiology faculty where she continues to pursue research and practice as a physician-scientist in anesthesiology.
Research
Yurashevich's research interests involve investigating strategies for early identification of women at risk of developing persistent pain and/or peripartum depression post-delivery, thereby facilitating risk stratification, personalized treatment with the hope of reducing perinatal morbidity and mortality.
DREAM Innovation Grants (DIG) support innovative high-risk and potentially high-reward investigations to accelerate anesthesia and pain management research and are made possible through Duke Anesthesiology's Duke DREAM Campaign. Yurashevich is excited to have received a 2020 DIG to further pursue studies examining the role of biomarkers in predicting persistent pain and peripartum depression in cesarean delivery, which accounts for roughly one-third of the four million annual births in the United States. Persistent pain after cesarean delivery has an incidence as high as 23 percent, while perinatal depression has an incidence of 15 percent nationwide. The economic burden is about $635 billion in the United States alone, not to mention the emotional and social burden that persistent pain and depression can have on the mother, infant and social support network. Recently, neuroinflammation has emerged as an important mediator of persistent pain with the release of inflammatory cytokines, such as TNF-α, IL-1β, and IL-18 in the central nervous system (CNS) implicated in central sensitization. Furthermore, there is significant overlap in the inflammatory mediators associated with depression and those involved in the pathogenesis of persistent pain, suggesting that neuroinflammation may be a common etiological process. The studies associating neuroinflammation with the development of persistent pain and/or perinatal depression in parturients are limited. Most studies measure plasma cytokine profiles and it is unclear if plasma reflects the CNS neuroinflammation underlying persistent pain and perinatal depression. The objective of her study is to identify biomarkers associated with persistent pain and perinatal depression. Their central hypothesis is that the peripartum neuroinflammatory cytokine profile is significantly different among women who develop persistent pain and/or perinatal, compared to those who do not develop these conditions.
The work will be performed under the guidance of a multidisciplinary team of mentors and collaborators, including Dr. Ru-Rong Ji (Duke Anesthesiology), professor of anesthesiology, neurobiology, and cell biology, co-director of the Center for Translational Pain Medicine; Dr. Ashraf Habib (Duke Anesthesiology), professor of anesthesiology with tenure, chief of the Women's Anesthesia Division; and Dr. Paul Tan (Clinical Research Training Program), research fellow and anesthesiologist from KK Hospital Singapore.
These awarded DIG funds are expected to generate preliminary data for future grant applications that will allow Yurashevich to establish herself as an independent investigator.