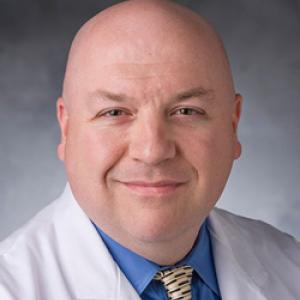 Associate Professor of Anesthesiology
2013 DIG Research Projects | "Cardiopulmonary Bypass Induced Inflammatory Changes in the Atrial Wall: The Novel Role for Cardiac Chymase produced Angiotensin II in the Development of Atrial Fibrillation"
Background
I am a Kentucky native. I attended the University of Kentucky for all of my education, beginning with my undergraduate studies, to my graduate work, continuing through my medical school, and residency training.
As an undergraduate, I was introduced to David Randall, PhD. A cardiac physiologist, Dr. Randall was the director for an introductory course in systems physiology. He fostered my scientific curiosity by first introducing me to research. He mentored and encouraged me to follow my growing interest in biomedical research by attending graduate school. As I moved through my doctoral studies, I found myself becoming more interested in the clinical applications of the research we were conducting. Medical school seemed to be the logical extension. Toward the end of medical school, as I began to explore residencies and specialties, it was my wife who encouraged me to look hard at anesthesiology. An anesthesiologist herself, she reminded me of the love I had for physiology, and detailed her experiences in the operating room. What she described was everything that I had been looking for! It allowed me to blend my physiology background with clinical medicine, and I quickly joined her in residency.
Our anesthesia residency director at the University of Kentucky, Randall Schell, MD, a Duke alumnus, serving both as a role model and advisor, encouraged me to explore my interest in cardiovascular research and anesthesia. He directed me to Drs. Mark Newman and Mark Stafford-Smith, and the fellowship program at Duke. Once again, following my love of both cardiac physiology and anesthesia, I moved to Duke for the Cardiothoracic Anesthesia Fellowship. During my interview at Duke, I was blown away by the level of interest and support for research within the Department of Anesthesiology. I had found an environment that would strongly support my clinical education and development, as well as my growth as a scientist. I happily joined the Duke team. Last year, I completed my clinical training as a cardiothoracic anesthesia fellow, and am now working as a research fellow and medical instructor within the Division of Cardiothoracic Anesthesia.
Research
Under the mentorship of Mihai Podgoreanu, MD, and Tom Coffman, MD, I am looking at the inflammatory processes that occur as a consequence of the cardiopulmonary bypass (heart-lung machine) during open-heart surgery. We believe that Angiotensin II, a small protein that normally controls blood pressure, becomes elevated to the point of stimulating this inflammatory response. Consequences of this inflammation may result in atrial fibrillation and kidney injury following surgery. Our goal is to better understand these pathways and to pinpoint ways to prevent this damage and identify patients that are most at risk for this damage. This research is very special to me for multiple reasons. First, it is a spinoff of work that I did under the guidance of Alan Daugherty, PhD, on Angiotensin II-induced inflammation. More importantly, my own father is facing open-heart surgery, as are many "baby-boomers." Anything that we can do as physician-scientists to make this major operation safer with better outcomes is my personal and professional passion.
Personal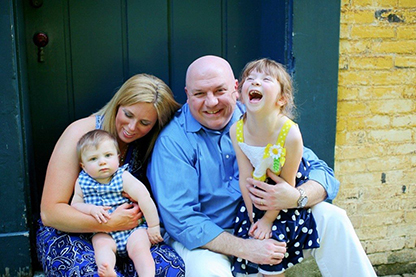 My wife, Erin, is now a faculty member in the Department of Anesthesiology and is also involved in her own research. Together, we are so proud to be a part of this incredible group of people as well as the larger Duke University community. The commitment to research here at Duke is so important. To be able to answer questions, develop solutions, and bring better care to our patients is an absolute must, especially within the specialty of anesthesia. Support to the DREAM Campaign provides new and established investigators the opportunity to begin asking those critical questions. By funding initial experiments and clinical studies, the DIG provides us the chance to develop new insights to problems that will revolutionize patient care, and truly make a difference.
View Dr. Manning's Spring 2013 DIG Report