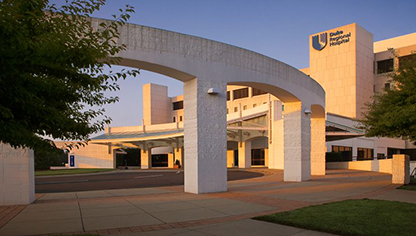 The first off-site group to affiliate with Duke Anesthesiology was Durham Anesthesia Associates (DAA)—a medium-sized, successful private practice organization with a 30-year history. Although the practice worked in concert with then Durham Regional Hospital, Dr. Edward Sanders and others in the organization knew that the DAA's full potential could only be realized by aligning itself with a larger academic institution like Duke University. Dr. Sanders and key partners within the practice first began to discuss the creation of a formal relationship between DAA and Duke Anesthesiology in 1996 with former chairman, Dr. Joseph "Jerry" Reves, former vice chair, Dr. Mark Newman, and former faculty member, Dr. David Lubarsky. This relationship was consummated in 2007.
Today, this remarkable team is referred to as the Community Division. Dr. Sanders serves as division chief. The physicians within this division are members of Duke Anesthesiology who jointly serve as community physicians. This unique affiliation allows Duke Anesthesiology and the Community Division to straddle the systems of academic and community practice, and to integrate both with the Private Diagnostic Clinic (PDC)—a for-profit professional limited liability company associated with the Duke University Health System and School of Medicine. This unique positioning has allowed both the department and the Community Division to grow significantly. The Community Division, which began as a team of 10 physicians and 40 certified registered nurse anesthetists (CRNAs), has since expanded. Together, we now provide care to several local surgeon's offices as well as other North Carolina hospitals, including Durham's Davis Ambulatory Surgery Center, the North Carolina Specialty Hospital, Person Memorial Hospital in Roxboro, and the Mebane Surgery Center in Mebane.
"This may be the most unique academic-community affiliation alignment in the country," states Dr. Sanders. "Leadership in the department has allowed us to retain much of the original responsibility that we had as a private business, which allows us to continue to do what we do best." – and that is provide exceptional care to the local community with a unique sense of compassion.
The Community Division also contributes to the department's global mission of education and research. Their primary emphasis is placed on the training of CRNAs. In fact, DAA physicians and CRNAs, notably Ruth Long, who was chief CRNA at the time, partnered with faculty at Duke to lay the foundation for what is now the highly-respected Nurse Anesthesia Specialty Program at Duke University's School of Nursing.
When it was still an independent private practice, DAA sponsored a CRNA training program for many years, but the program was forced to terminate in 1994. Dr. Sanders and Ms. Long approached Dr. Reves, who was the chair of Duke Anesthesiology at the time, to discuss their goal. Like DAA, Duke once had a successful CRNA training program under the leadership of Chief Nurse Anesthetist May Hoen Muller, CRNA, but it ceased to exist after 1955. Dr. Reves agreed that a CRNA training program would be an ideal solution to help meet the overwhelming need for anesthesia care, both at Duke and across the country. The DAA and Duke University worked together for a number of years to develop a school for these highly trained nurses. Today, Duke Regional Hospital serves as the base clinical site for this nationally recognized CRNA training program.