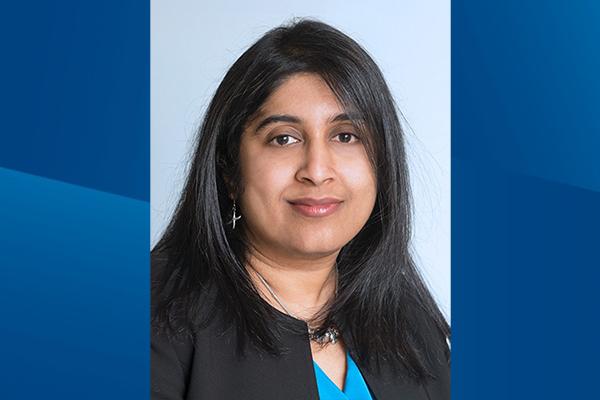 The Medical Group Management Association (MGMA) has selected Duke Anesthesiology's Padma Gulur, MD, as the 2023 recipient of the Harwick Innovation Award in recognition of her time serving in health care and the innovative contributions she has brought forth in the field. This prestigious award is designed to acknowledge and celebrate the success of an individual who has developed innovative solutions that positively impact practices, providers and/or patients.
"I am deeply humbled and honored to be bestowed with the Harwick Innovation Award," says Gulur, professor of anesthesiology and population health sciences. "This recognition reinforces the paramount significance of innovation in propelling forward patient care and health care practices."
The MGMA specifically recognizes Gulur's originality of the Anesthesia Resource Management System (ARMS) – an innovative approach that she developed to optimize anesthesia resources through a utilization-based model. Gulur says that while traditional resource management systems often focus on capacity and fixed scheduling, ARMS takes into account the dynamic nature of perioperative environment to better allocate staffing resources. This unique utilization-based approach addresses the challenges of unpredictability in surgical procedures and allows for more efficient resource allocation.
Gulur currently serves as the executive vice chair of Duke Anesthesiology, the director of pain management strategy and opioid surveillance for the Duke University Health System, and the medical director of the Inpatient Pain Service. She is also the director of the Pain Relief and Opioid Mitigation Innovation Science (PROMIS) Laboratory, which aims to create a cohesive strategy to optimize pain management and safe opioid prescribing and to reduce the impact of substance abuse on our community.
MGMA is committed to highlighting the achievements and efforts of those who think outside of the box and are making some of the most valuable contributions to the transformation of health care so that professionals across the country can learn from their work and make our overall health care system work better for everyone. Gulur will be honored and presented the Harwick Innovation Award at MGMA's Leaders Conference this October in Nashville.