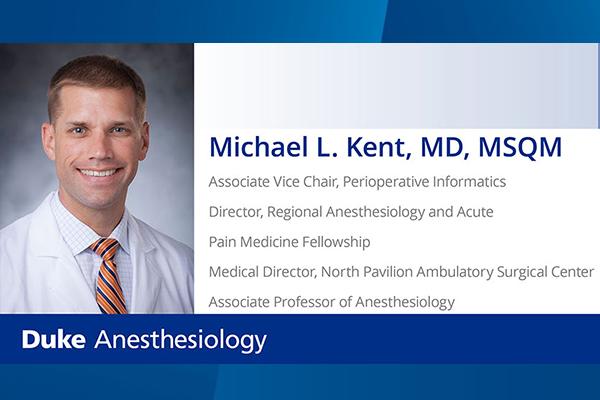 We are pleased to announce that Michael L. Kent, MD, MSQM, has been appointed the associate vice chair for perioperative informatics, effective December 1.
In this new role, Dr. Kent will be responsible for executing the department's data strategy in support of operations, education, research, and quality/safety; this includes bridging and advising departmental groups on a broad array of analytics tasks across the spectrum of descriptive, predictive and prescriptive analytics. He will also be responsible for maintaining key analytic/data science collaborations throughout the Duke University Health System that augment departmental efficiencies and solidify the role of Duke Anesthesiology within perioperative operations.
"Leveraging the power of data to guide boots-on-the-ground efforts is a critical component in today's interconnected landscape," says Dr. Kent, associate professor of anesthesiology. "Whether it be machine learning or basic descriptive statistics, my goal is to serve departmental constituents through the provision of actionable analytics and sustainable data strategies."
Dr. Kent received his medical degree from the University of California, Los Angeles and was commissioned as an officer in the United States Navy. He continued his medical training at the Naval Medical Center, San Diego, where he completed his internship in pediatrics in 2005 and residency in anesthesiology in 2010. He went on to pursue a fellowship in acute pain and regional anesthesia at the Walter Reed Army Medical Center in Washington, DC, where he also received the Uniformed Services Society of Anesthesiologists Research Award. He stayed on as a staff anesthesiologist, and then served as assistant professor at the Uniformed Services University for Health Sciences from 2013 to 2017; during that timeframe, Dr. Kent was recognized as an associate master clinician at the Walter Reed National Military Medical Center, where he also served as assistant residency program director for three years.
Dr. Kent served for 13 years as an active-duty naval physician. Following his military commitment, he joined Duke Anesthesiology faculty in 2017; he is a part of our Ambulatory Anesthesiology Division and currently serves as the program director of the Regional Anesthesiology and Acute Pain Medicine Fellowship. Under his leadership, Dr. Kent has helped develop an online repository of the fellowship curriculum and created individual leadership roles (administrative, research, education, and quality improvement) for each fellow with clear performance and accountability metrics.
Dr. Kent also currently serves as medical director at the North Pavilion Ambulatory Surgical Center. In this role, he led the creation of an executive level dashboard embedded with length of stay and mortality metrics to help leadership explore actionable data and optimize outcomes. Most recently, in collaboration with the surgery and nursing leadership, he addressed decreased case volumes that followed the interruption of elective surgeries during the height of the COVID-19 pandemic and helped significantly reduce the elective surgical backlog. Just last year, Dr. Kent acquired a Master of Science in Quantitative Management (MSQM) in Health Analytics degree from the Duke Fuqua School of Business to gain better insight into analytic techniques and core business management principles in health care.
Dr. Kent's depth of knowledge in pain research has gained national traction. He regularly shares his expertise in pain conditions and management techniques acquired on the battlefield as well as the hospital setting through invited lectures at national scientific forums. Dr. Kent has also served as a co-editor for the section on Acute and Perioperative Pain for the journal Pain Medicine since 2016. In a collaborative effort with a colleague at the University of Florida, Dr. Kent created a new section within Pain Medicine focused on "big data" investigations for both acute and chronic pain.
Please join us in thanking Dr. Kent for his leadership and congratulating him on his new appointment in our department.