Pediatric Anesthesiology Fellowship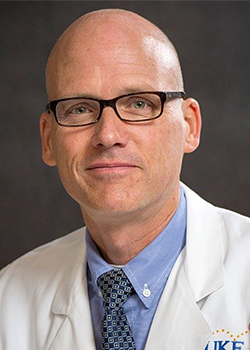 Under the directorship of Dr. John Eck, our Pediatric Anesthesiology Fellowship Program benefits from a customized schedule that provides extra training in our fellows' area of interest. And, a second-year cardiac preceptorship is now offered to our pediatric anesthesiology fellows to provide advanced training in cardiothoracic anesthesiology, including ECHO. A testament to the commitment to resident teaching in our division is demonstrated through teaching scores where pediatric anesthesiology faculty consistently score higher than departmental averages.
The current fellowship schedule includes a 10-month pediatric anesthesiology rotation where fellows are exposed to complex surgical procedures in both general pediatric and pediatric cardiac surgery. The operating room rotation is the main opportunity for fellows to learn advanced pediatric airway, invasive monitoring and regional anesthesia skills (our fellows also acquire these procedures in numbers above the 50th percentile of the ACGME database). Training in pediatric cardiac anesthesia is not obtained in a block rotation, but is assigned one day per week throughout the year, allowing a progressive education throughout the year. One to two days per month are spent at the Duke Ambulatory Surgery Center learning regional anesthesia techniques and one to two days per month are spent in the Pediatric Cardiac Catheterization Lab. Occasional assignments occur outside the operating room, preparing fellows to provide anesthesia for a variety of radiologic imaging/interventional studies, minor invasive/diagnostic procedures and radiation therapy for infants and young children. One-month rotations in pediatric critical care (multidisciplinary and/or cardiac PICU) and pediatric acute pain provide fellows with extensive experience in the postoperative care of these complex patients.
A unique feature of the Duke Pediatric Anesthesiology Fellowship is that fellows have direct input into their daily case assignment. This allows fellows to help select "fellow-level" cases and to maintain an optional balance in the mix of cases throughout the year. Based on case log data from the ACGME, compiled for all 50 plus approved fellowship programs in the country, our fellows have consistently acquired numbers of cases at greater than the 50th percentile in the following case categories:
Cardiac (>80%)
Newborn (90%)
Infants (1-11 months) (>90%)
Craniofacial Reconstruction (>70%)
Solid Organ Transplant (90%)
Airway Surgery (75%)
Fiberoptic Intubation, arterial cannulation, and central venous cannulation (>90)
Pediatric Congenital Cardiac Fellowship: Dr. Edmund Jooste was involved with the Congenital Cardiac Anesthesia Societies' task force to apply for an ACGME-approved pediatric cardiac fellowship. This was recently approved and we look forward to creating the position at Duke.