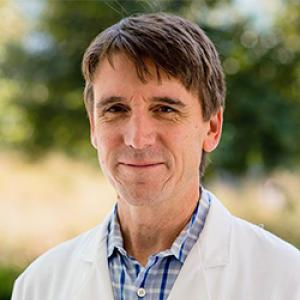 Professor of Anesthesiology
2017 DIG Research Project | "Red Cell Rejuvenation for Optimal Tissue Oxygen Delivery"
Background
After completing medical and anesthesia training at University College London, Dr. Ian Welsby has been an intensive care physician and cardiothoracic anesthesiologist at Duke University Medical Center for 17 years. Dr. Welsby received the equivalent of board certification at the Royal College of Anaesthetists in London, England and joined Duke Anesthesiology as a Critical Care Medicine fellow in 1996. A new initiative to involve anesthesiology in the Cardiac Surgical Intensive Care Unit at Duke University Hospital transpired into Dr. Welsby joining the Neuroanesthesiology, Otolaryngology and Offsite Anesthesia Division for a brief period before embarking on his current career at Duke; he focuses on clinical cardiothoracic anesthesia, critical care, coagulation and transfusion under the mentorship of Dr. Mark Stafford-Smith and has contributed to the better understanding of the management of perioperative thrombosis (particularly HIT).
Research
Dr. Welsby's research interests focus on perioperative transfusion and hematology/coagulopathy/thrombosis. He has dedicated his career to improving the outcome of patients undergoing cardiothoracic surgery, understanding perioperative coagulopathy and optimizing transfusion practice.
Dr. Welsby's 2017 DREAM Innovation Grant (DIG), supported by the Duke DREAM Campaign, will generate essential preliminary data to test whether rejuvenated blood will outperform standard blood re-transfused to volunteer donors undergoing VO2max testing before and after their transfusions. If so, further clinical studies may be merited, and the DIG data will bolster the resubmission of an R-21 to the NHLBI in 2018 to conduct a definitive, volunteer study.
The results of this DIG-sponsored research will help establish new mechanisms by which essential oxygen delivery can be optimized in patients with anemia or limited cardiac output, potentially improving the outcome of cardiac surgical patients and sparing the blood inventory. If one unit of rejuvenated blood, for example, is as effective as two units of standard blood, this could revolutionize transfusion medicine.
Further optimizing the red blood cell product continues to be a focus of new research. Dr. Welsby is currently evaluating point-of-care, bedside washing of packed red blood cells to reduce perioperative lung injury. He is also studying rejuvenated red blood cell transfusions in chronic recipients of red blood cell exchange to treat their Sickle Cell Anemia.
Personal
In 1996, Dr. Welsby met his soon-to-be wife, Elizabeth, a North Carolina native and collegiate Tar Heel! After spending two years in London, the Welsbys returned to North Carolina in 2000 where they are raising their three children, Jack, Carlan and Charlotte.