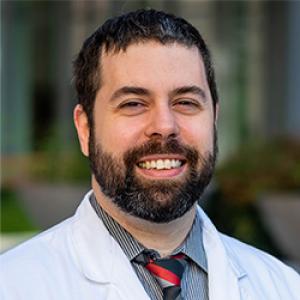 Assistant Professor of Anesthesiology
2021 DIG Research Project | "Proteomic Determination of Neuroinflammation in Postoperative Delirium"
Background
Michael Devinney, MD, PhD, grew up near Pittsburgh in Western Pennsylvania. As an undergraduate, he attended the University of Pittsburgh, where he majored in neuroscience and biology. There, he had a formative experience in a neuroscience laboratory in which he studied the role of calcium and zinc mobilization in neuronal excitotoxicity and published two first-author papers. During that experience as an undergraduate, he received hands-on mentorship from a postdoctoral fellow at that time, Kirk Dineley.
After college, he joined the Medical Scientist Training Program at the University of Wisconsin-Madison, where he completed medical school and a neuroscience PhD; his studies focused on how hypoxia induces plasticity in spinal respiratory motor nuclei, such as the phrenic motor nucleus. In these studies, he discovered that protein kinase C theta activation is necessary for phrenic motor plasticity induced by intermittent hypoxia, and that intermittent hypoxia better elicits phrenic motor plasticity compared to sustained hypoxia because of less activation of a competing spinal adenosinergic pathway. These studies resulted in four first-author publications, and spurred his interest into how breathing disorders could affect cognitive functioning.
In 2015, Devinney joined Duke Anesthesiology for residency and fellowship training as an ACES (Academic Career Enrichment Scholars) resident. He chose Duke because he was impressed by the excellent clinical training and the department's commitment to advancing research in anesthesiology. After completing a critical care medicine fellowship in 2020, he joined the department as faculty. He currently practices as an intensivist in the Critical Care Unit at Duke Regional Hospital and as an anesthesiologist in the General, Vascular and Transplant Anesthesiology Division within the Department of Anesthesiology at Duke University Hospital. He is an active member of the American Society of Anesthesiologists (ASA), International Anesthesia Research Society (IARS), American Geriatrics Society (AGS), American Delirium Society (ADS), and serves as the mid-Atlantic representative of the Early-Stage Anesthesiology Scholars (eSAS).
Research
Throughout Devinney's training, he became interested in why many older surgical patients suffer from cognitive deficits following anesthesia and surgery. Inspired by his previous PhD work, he wondered whether sleep apnea could be a risk factor for postoperative cognitive dysfunction and delirium. With the help of his mentors (Drs. Miles Berger and Joseph Mathew), he began a study during residency to determine the relationship of sleep apnea with neuroinflammation and cognitive dysfunction following surgery: Sleep Apnea, Neuroinflammation, and Cognitive Dysfunction After Non-cardiac Surgery (SANDMAN). The goal is that SANDMAN will shed insight into crucial mechanisms of brain injury in sleep apnea patients and discover ways to reduce postoperative cognitive dysfunction and delirium, such as with early detection and treatment of undiagnosed sleep apnea.
During Devinney's critical care medicine fellowship, he became more interested in understanding why some patients suffer from an acute confusional state, known as delirium. Delirium is incredibly distressing for patients and their families, and often heralds complications, prolonged hospitalization, worse long-term cognitive function, and even death. Despite the significant impact delirium has for patients and the health system, there is little understanding why delirium occurs, and consequently, few interventions to prevent and/or treat delirium for patients.
Since joining Duke Anesthesiology faculty, Devinney has focused on designing studies to help better understand the underlying mechanisms of delirium. One possible mechanism of postoperative delirium is neuroinflammation, as animal studies have shown that increased brain inflammation underlies postoperative cognitive deficits, and elevated cerebrospinal fluid (CSF) cytokines have been identified in hip fracture patients who went on to develop delirium. Based on these observations, he aims to discover the specific neuro-inflammatory pathways that are activated after surgery and associated with postoperative delirium. To answer these questions, he is leveraging CSF samples obtained in his mentors' study, "Investigating NeuroinflammaTion Underlying Postoperative Brain ConnectIviTy Changes and Postoperative Cognitive Dysfunction," where patients undergo pre- and postoperative delirium assessment and CSF sampling.
The DREAM Innovation Grant (DIG) provides Devinney's research group and collaborators with the opportunity to perform unbiased proteomics on the CSF from patients who underwent non-cardiac, non-neurologic surgery and then developed a range of delirium symptoms. Unbiased proteomics will allow them to measure levels of hundreds of different proteins, which will enable them to discover possible pathways associated with postoperative delirium. One possible neuro-inflammatory pathway that could be activated after surgery and trigger delirium is the complement cascade, because complement activation can result in synaptic phagocytosis by microglia, leading to decreased synaptic connectivity and cognitive deficits. Thus, they hypothesize that postoperative CSF complement activation is associated with postoperative delirium severity. Another potential pathway involved in postoperative delirium is the coagulation pathway because surgery activates peripheral coagulation factors that could pass through a disrupted blood-brain barrier to activate coagulation proteins in the CNS. Activated coagulation factors can lead to neuroinflammation via several mechanisms, including 1) activating complement proteins 2) inflammation mediated by thrombin and 3) brain fibrinogen deposition. Devinney also hypothesize that his team will find that postoperative CSF coagulation pathway activation is associated with postoperative delirium severity. The DIG will allow them to establish this line of innovative research using unbiased proteomics of postoperative CSF to uncover specific neuro-inflammatory pathways underlying postoperative delirium. This work will provide the groundwork for grant proposals for larger studies aimed at uncovering mechanisms of postoperative delirium that could possibly lead to new drug targets to reduce postoperative delirium and its sequelae.
DIGs support innovative high-risk and potentially high-reward investigations to accelerate anesthesia and pain management research and are made possible through Duke Anesthesiology's Duke DREAM Campaign. Support from the campaign is essential for Devinney to obtain this initial data, which will enable him to apply for NIH funding to study these potential mechanisms of delirium in a larger study.