Regional Anesthesiology & Acute Pain Medicine Fellowship
Dr. Susan M. Steele, a regional and cardiac anesthesia fellowship trained anesthesiologist, established the Duke Regional Anesthesia Fellowship Program in July 1997; the program was one of the few regional anesthesia fellowship curricula available in the country. Drs. Steele and Karen Nielsen were part of the Regional Anesthesia Fellowship Program directors group from its inception in 2002, which established the first regional anesthesia fellowship training guidelines. These guidelines were later published in the Regional Anesthesia and Pain Medicine journal (Reg Anesth Pain Med 2005;30:218-225).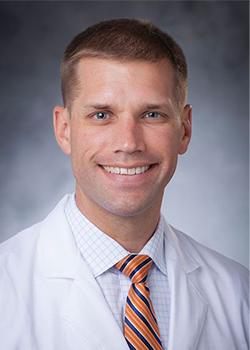 Dr. Stephen M. Klein assumed the role of fellowship program director from 2006 to 2009. Dr. Nielsen, also a regional anesthesia fellowship trained anesthesiologist, assumed the role of fellowship program director in July 2009 and served until June 2017. The fellowship blossomed under Dr. Nielsen's direction. Trainees who have completed the highly-acclaimed fellowship have received an unrivaled education in advanced regional anesthesia with a strong focus on the outpatient setting. As outpatient surgery grew in popularity and efficiency, this fellowship grew as well into one of the strongest regional anesthesia fellowships in the country and in the world. For instance, the Duke Ambulatory Surgery Center started to send patients home with continuous peripheral nerve catheters after outpatient surgery in 1998.
Graduates of the original Institutional Committee for Graduate Medical Education (ICGME) Fellowship are spread across the world, including Canada, Brazil, Chile, Saudi Arabia, Great Britain, Pakistan, and India. This fellowship cultivated a successful educational exchange between Duke's ambulatory anesthesiology training program and the military. This collaboration served our country well in caring for soldiers in the Afghan and Iraqi conflicts. The current fellowship program director, Dr. Michael L. Kent, is a product of the military collaboration. He is fellowship trained at Walter Reed National Military Medical Center under Dr. Chester C. Buckenmaier III, (past fellow from 2001-2002) and is now practicing with the Ambulatory Anesthesiology Division at Duke. This is another example of the far reaching excellence that has resulted from the educational endeavors through our fellowship program.
In March of 2017, the prior ICGME Fellowship Program became an Accreditation Council of Graduate Medical Education (ACGME) Regional Anesthesiology and Acute Pain Medicine Fellowship Program. This fellowship was one of the first nine programs in the country to achieve the status of an ACGME-accredited program in regional anesthesiology and acute pain medicine. From the beginning, the fellowship program was and still is an excellent training opportunity for participants. Positions in the fellowship (we offer five per year) are sought after heavily by some of the brightest and best. In addition, the fellowship has provided a powerful platform for our team to train and develop relationships with the finest regional anesthesiology and acute pain medicine physicians in the world.