Duke Becomes First to Earn Echocardiography Designation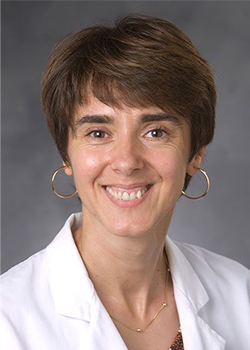 Welcome to the Duke Perioperative Echocardiography Service. The service is part of the Division of Cardiothoracic Anesthesiology and Critical Care Medicine at Duke. We provide echocardiographic imaging in the perioperative areas, principally the cardiac surgery operating rooms, adult cardiac surgical intensive care unit, hybrid operating rooms and all non-cardiac operating rooms for emergency diagnostic use. There are six state-of-the-art imaging machines, including live three-dimensional transesophageal echocardiography (live 3D-TEE), two-dimensional strain imaging and portable echocardiography in the intensive care unit.
In addition, there is a structured TEE training program as a part of the Cardiothoracic Anesthesiology fellowship program, an ACGME accredited fellowship. The TEE training program conforms to the educational and training requirements proposed by the Society of Cardiovascular Anesthesiologists (SCA) and the American Society of Echocardiography (ASE).
Our environment is conducive for research in perioperative echocardiography, including exploration of new technologies, such as live 3D-TEE, and strain imaging; investigation into impact of TEE on postoperative outcomes after cardiac surgery; and research on interpreter variability and improvements in trainee interpretation of echocardiography.
For physicians who wish to enhance their skills in perioperative transesophageal echocardiography, or learn about new technology, we offer an exclusive AMA PRA Category 1 credit™ CME-approved three-day course with individualized echo teaching. This is an observation-only preceptorship that provides a unique experience to physicans enabling them to interact in the operating room with surgeons and anesthesiologists to gain valuable insight into the surgical decision-making process with TEE.  Please visit the Visiting Preceptorship in Intraoperative Transesophageal Echocardiography website for more information and for registration.