Regional Anesthesiology & Acute Pain Medicine Fellowship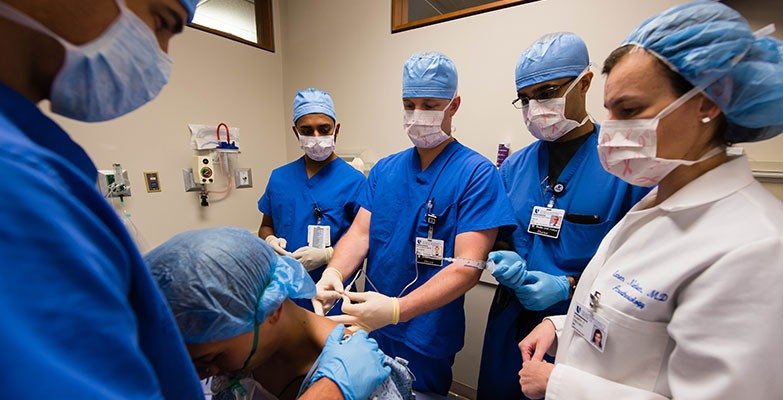 The Regional Anesthesiology and Acute Pain Medicine Fellowship has been a world-renowned leader in regional anesthesiology training for decades. In 2017, it became one of the first programs in the country to be an ACGME-accredited fellowship in regional anesthesiology and acute pain medicine. With a combination of extraordinary clinical experience, a structured educational program, mentoring by world experts, and a strong focus on fellow scholarship and inquiry, its fellows emerge prepared with the tools to make a profound impact at the patient, departmental, health system and national levels.
Fellows are assigned three clinical days/week in the operating room and two clinical days/week in the preoperative block area. Whether caring for elite athletes in the fast-paced ambulatory sports medicine rooms, placing multiple catheters for lower limb amputation, or choosing just the right combination of blocks for a patient undergoing mastectomy and reconstruction, one of the foundational goals of this fellowship is to ensure that there is no clinical scenario, technique or judgment call relating to regional anesthesiology and acute pain medicine that these fellows have not faced as they prepare for their roles as leaders in the field. Additional rotations include 12 weeks on the Inpatient Pain Service, managing acute postoperative pain using a variety of pharmacologic, non-pharmacologic and nerve block-based techniques and tools. And, two weeks seeing new consults for chronic nonmalignant and cancer pain and using many of the tools learned in the care of acute pain management to help ease the suffering of these patients.
Skill in the use of ultrasonography is acquired throughout the academic year. In addition to the techniques related to regional nerve blocks, fellows receive instruction in Point of Care Ultrasonography (POCUS), including trans-thoracic echocardiography, gastric, lung and IVC ultrasound, airway ultrasound, and abdominal/FAST exam. Fellows are also trained in research methodology, including the generation of a hypothesis, statistics and the creation of study design.