Vision
To be the leader in advancing perioperative medicine and pain management.
Mission
Extraordinary care through a unique culture of innovation, education, research, and professional growth.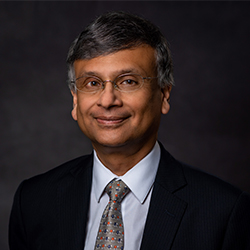 Read Dr. Joseph Mathew's "Message from the Chair," as seen in Duke Anesthesiology's 2022 BluePrint magazine.
Our department reflects the comprehensive effort of an exceptional team of anesthesia physicians, nurses, and staff to advance patient care within Duke University Medical Center and the field of medicine at large. Through excellence in physician leadership, research, education, and innovation, we improve perioperative outcomes and establish the very best in patient care.
Leadership
The Department of Anesthesiology's numerous successes depend on physicians recognized by national and international organizations for significant scientific contribution. Faculty members serve as medical directors for national research groups, shaping the future of medicine one project at a time. Here at Duke, we provide anesthetic care and consultation in over 32,000 surgical cases a year.
Research
Because increased understanding is vital to improving perioperative outcomes, the Department of Anesthesiology is committed to breaking new ground in medical research. Of our diverse research interests, we have won major attention for progressing the prevention of cognitive decline and organ injury during and after cardiac surgery. In 2001, we created and established the Global Perioperative Research Organization, a joint venture between the International Anesthesia Research Society and Duke University's Clinical Research Institute, to design and conduct research projects focused on the entire perioperative period. This effort has since transformed into the Duke Clinical Research Institute. Duke Anesthesiology is also known as one of the leading anesthesiology departments, nationwide, to win funding from the National Institutes of Health.
Education & Innovation
Our nationally-acclaimed training program in anesthesiology attracts the most promising residents and fellows trained by superior clinicians to become leaders in their specialties. The Duke Human Simulation and Patient Safety Center provides a myriad of opportunities to master technique and promote innovation. Several of our faculty hold endowed professorships, recognized by Duke University for the magnitude of their scholarship's impact on the future of medicine.
Our vision is boundless. We not only care for the body during surgery, but perform compassionate and comfortable preoperative and postoperative care as well. Surgery may necessarily arise as a major event along a lifeline, but it need not negatively and permanently disrupt life. Through extraordinary expertise, research, and innovation, we optimize patient care.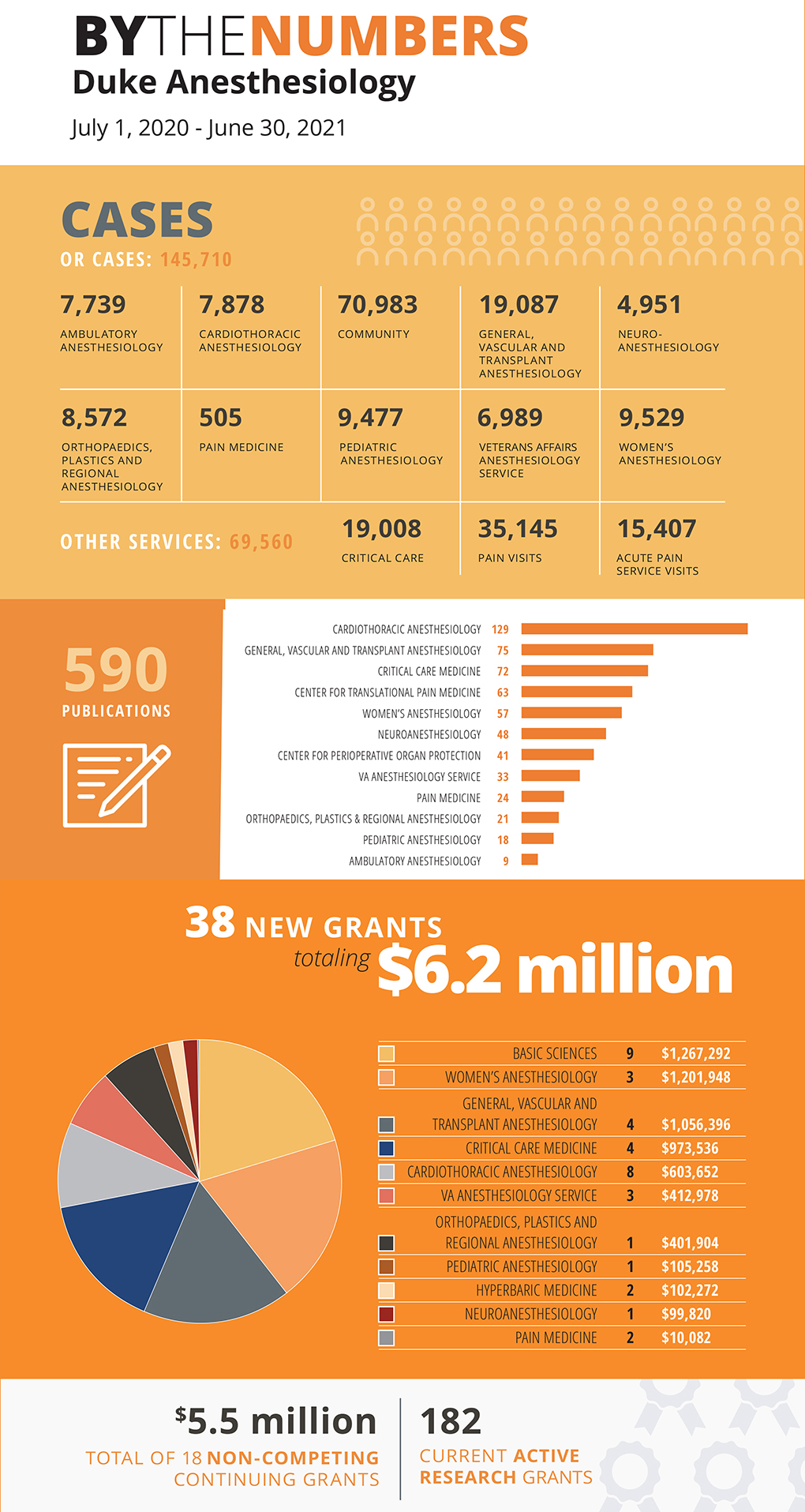 Professionalism
We exhibit mutual respect and dignity in all that we do. Including:
Honesty/ Integrity– We will always maintain the highest standards of behavior and do the right thing for the right reasons at all times.
Diversity- We will always value all aspects of diversity in everything we do.
Compassion- We will always seek to be compassionate for all those that we interact with to include a deep awareness of and sympathy for the suffering of others along with a unique obligation to attempt to remove that suffering.
Departmental and Institutional Citizenship
We will be responsible and accountable as a team and as individuals for our collective success in accomplishing the mission. We will do this through:
Teamwork- To exhibit enthusiastic and sustaining support for the team. We believe the team yields a whole; which is greater than the sum of its parts.
Accountability- To our colleagues and to our patients for the highest standards of behavior to ensure that the trust placed in us by society is upheld.
Commitment
We are committed to our patients through:
Quality- Uncompromising quality in every aspect of patient care.
Support- Unwavering support of education, research, and innovation.
Career development- For all members of the department.
Legendary Leaders
Our Distinguished Past
When James B. Duke decided to establish a university to rival the finest institutions in the nation, he faced a number of difficult decisions. Surprisingly, one of the decisions that plagued him the most was determining what type of stone should be used to construct the buildings. He wanted an antique, yet artistic look that would distinguish the university and set it apart from others. After scouring the nation, he finally settled on a local stone called "bluestone," which occurs naturally in seven primary colors and seventeen different shades.
Today, Duke University's lovely gothic architecture is one of its most unique features. However, stone, wood, and brick and mortar alone do not make a university great. Rather, it is the people who have studied and worked inside of these walls who have made James B. Duke's dream a reality.
As Duke Anesthesiology celebrates 50 years of history, recognizes current accomplishments, and looks to the future of the department, we pay homage to the unique blend of people who form Duke Anesthesiology's legacy of excellence and who are even more colorful and diverse than Duke University's prized bluestone. Like the university itself, the department's story begins with a strong foundation laid by men and women with great vision.
Breaking Ground—C. Ronald Stephen, MD & Sarah J. Dent, MD: 1950-1971
Like many American anesthesiology departments, Duke's Department of Anesthesiology began as a division of the Department of Surgery. In the mid-1940s as World War II came to an end, the role of the anesthesiologist was redefined as military physicians returning home from the frontlines introduced more sophisticated intravenous and regional anesthetics to the civilian population. Anesthesiologists across the country called for a movement to establish independent anesthesiology departments at academic institutions.
The first person to attempt this at Duke was C. Ronald Stephen, MD, who served as chief of the Division of Anesthesiology in the Department of Surgery for 16 years. During his tenure, Dr. Stephen recruited an excellent team of physicians, encouraged greater activity in clinical research, and established a residency program. In 1965, he made a highly controversial proposal: the successful anesthesia division should become an independent department. When the administration repeatedly refused his request, he resigned.
The controversy surrounding Dr. Stephen's resignation did significant damage to the
division's morale. Over time, the faculty dwindled, the residency program collapsed, and the division's research became almost non-existent. To provide the Division of Anesthesiology with the support it needed, Duke University School of Medicine agreed to create an independent Department of Anesthesiology in 1970. The young department was placed under the leadership of one of Dr. Stephen's former trainees, Sarah J. Dent, MD, who served as acting chair until a permanent chair could be recruited.
Laying the Foundation— Merel H. Harmel, MD: 1971-1983
Merel H. Harmel, MD, has been a part of the Duke Anesthesiology family throughout its entire existence. He was recruited to Duke in 1971 to serve as chair of the newly-created Department of Anesthesiology. Like Dr. C. Ronald Stephen, the young Dr. Harmel was determined to play his part in developing anesthesiology into a distinct and valued specialty within the surgical landscape. Before he came to Duke, Dr. Harmel had already founded two esteemed anesthesia departments at the State University of New York (SUNY) Downstate Medical Center and the University of Chicago. This unique experience proved crucial to his success at Duke. Upon his arrival, he was provided with a team of six physicians, 12 student nurses, approximately 15 graduate nurses, and $250,000 with which to create an academic department on a par with the leading anesthesiology departments in the nation. Dr. Harmel met this challenge by establishing a firm foundation for the department in three primary areas: clinical care, education and research.
Perhaps Dr. Harmel's most significant contribution, however, was the Duke Automatic Monitoring Equipment (DAME) system. Shortly after his arrival, Dr. Harmel recruited a physician scientist named David A. Davis, MD. Assisted by a bright young engineering technician named Larry Dowell, Dr. Davis experimented with telemetry and monitoring anesthetic depth using the electroencephalogram and the electromyogram. Dr. Davis created a successful four-channel telemetry monitoring system, which sparked Dr. Harmel's interest in isolating physiological elements of anesthetics. As a result, Dr. Harmel recruited Joannes H. Karis, MD, two post-doctoral engineers, Larry Burton, PhD, and Marc Rafal, PhD, as well as Fritz Klein, PhD, from the Department of Electrical Engineering, and Frank Block, Jr., MD, to create a computer-based monitoring network.
This network, which became known as the DAME, was the first computerized monitoring system in the world to produce an objective record of vital signs. This type of system, which was about 20 years ahead of its time, is now standard of care in the operating room. As a result of this and other similar innovations, such as the microDAME and ARKIVE, Duke Anesthesiology is now internationally recognized as a pioneer in monitoring and informatics. Even though technology has changed remarkably in the past 50 years, Duke's reputation for pioneering new technology has not.
Growing a Special Charm—W. David Watkins, MD, PhD: 1983-1990
In 1983, W. David Watkins, MD, PhD, was appointed chair. He held this position until 1990. During his tenure, the department attracted several faculty members from other parts of the country and became much more diverse.
Dr. Watkins encouraged greater sub-specialization within the department and created several new leadership positions. "We were able to complete programs individually and pursue direct interests," writes former faculty member Enrico Camporesi, MD, in a 1989 editorial for the department's Annual Report. "The extensive contacts which Dr. Watkins allowed me to maintain, and which he supported, stimulated my growth and personal confidence. After visiting several programs around the country, I realized that Duke University's Department of Anesthesiology had grown a special charm," he adds.
Another major change during this time was a dramatic growth in Duke University's patient population. "Never in our history have we provided anesthetic care for as many, and such complicated patients," writes Dr. Watkins in the 1987 Annual Report. "Importantly, in the process of expanding the quantity of patient care, we have assumed more thoughtful and mature approaches to the quality of our care. This emphasis on quality is reflected primarily in the growing pride and enthusiasm of our people—our major resource."
Dr. Watkins is best known for establishing bench research in the department. The Anesthesia Analytical Laboratory, directed by Mike Su, PhD, and the F.G. Hall Laboratory, directed by Peter Bennett, PhD, DSc, were integral to this effort. Dr. Watkins was actively engaged in several basic science experiments while serving as chair until he left Duke in 1990 and joined the University of Pittsburgh.
Focusing on the Outcome—Joseph "Jerry" Reves, MD: 1991-2001
Following Dr. Watkins' departure, Joseph "Jerry" Reves, MD, became department chair. "During his remarkable tenure, Dr. Reves brought the department to its current place amongst the most distinguished departments in the nation," wrote Dr. Harmel in 2003 in a historical account of the department. At Duke, where he served as chief of the Cardiac Division, director of the Duke Heart Center, and chair of the Department of Anesthesiology, Dr. Reves earned a reputation for challenging others to explore new ways to improve patient care.
Under his leadership as chief of the Cardiac Division, Duke cardiac anesthesiology grew to international acclaim. As director of the Heart Center, Dr. Reves was instrumental in shaping and implementing the multidisciplinary model of cardiac perioperative care, which has become the standard for the entire country. When he became chair of the Department of Anesthesiology in 1991, he continued to encourage others to explore new ways to advance the field. "Sometimes you have to drag a department kicking and screaming to get to another level of quality and academic excellence," recalls former resident and former faculty member Helene Benveniste, MD. "It takes a lot of guts and tenacity, which is what Dr. Reves has."
Dr. Reves encouraged Duke Anesthesiology faculty members to develop their individual niches and focus their careers on gaining international exposure in areas that interested them. Helping to develop the careers of others gave him great joy. His departure from Duke in 2001 was inspired not only by the opportunities that awaited him in Charleston, South Carolina, where he assumed the role of dean and vice president for medical affairs at The Medical University of South Carolina (MUSC), but an eagerness to give someone else a chance to lead the department—a physician scientist by the name of Mark F. Newman, MD.
Building a Legacy—Mark F. Newman, MD: 2001-2014
Mark F. Newman, MD, Merel H. Harmel Professor of Anesthesiology and professor of medicine, is a pioneer in the field of perioperative neurologic research. He discovered this passion while completing his fellowship here under the mentorship of Dr. Reves and James Blumenthal, PhD. He went on to play a significant role in defining the now widely accepted demographic, procedural, and genetic risk factors for cognitive dysfunction after surgery.
After completing his fellowship, Dr. Newman spent a number of years in the Air Force, where he honed his leadership skills and gained an appreciation for the importance of contributing to the greater good. Like many Duke Anesthesiology alumni, Dr. Newman came back to Duke to do just that. He joined the faculty in 1992 as an assistant professor. By 1994, he was named chief of the Cardiac Division, where he was able to pursue research in neurological outcomes.
By the time Dr. Newman became chair of the department in 2001, Duke Anesthesiology had developed an international reputation for excellence. He could have been content to simply sit back and enjoy the ride. Instead, he immediately set out to build an even stronger department.
Working with a multidisciplinary team, Dr. Newman initiated a highly successful Perioperative Genomic Group that collected valuable information about the genetics and mechanisms behind perioperative organ injury in order to improve safety and outcomes after surgery and anesthesia. Furthermore, he established an innovative mentorship program designed to support and develop faculty from the moment they enter the department. Always mindful of the department's future success, Dr. Newman placed a strong emphasis on development; he successfully created five endowed professorships through philanthropy and sound financial management.
Another area of major emphasis was the expansion of the department's educational program. To accomplish this, Dr. Newman created the Academic Career Enrichment Scholars (ACES) program, which equips outstanding clinicians with the skills and experience necessary for successful careers in academic anesthesiology. He had hoped that training leaders in anesthesia around the world would become a legacy of the department.
Thanks to Dr. Newman and the leaders who preceded him, Duke Anesthesiology is undoubtedly one of the most respected departments of anesthesiology in the world. With a sense of pride in our remarkable past, decades of success behind us, and a spirit of excitement for our promising future, our department continues to flourish under Dr. Joseph Mathew's leadership.
Changing the Face of Anesthesiology—
Joseph P. Mathew, MD, MHSc, MBA: 2015-Present
Joseph P. Mathew, Jerry Reves, MD, Professor of Cardiac Anesthesiology, is a leading researcher in his field, focused on improving perioperative outcomes, particularly neurocognitive dysfunction, alterations in brain connectivity and occurrence of atrial fibrillation after cardiac surgery; and notably recognized for his leadership in perioperative echocardiography. For Dr. Mathew, the department's strength lies in its people – its success lies in strategically investing in projects that will further strengthen the infrastructure and the pillars that the department was built upon: research, education and clinical care. His goals are deeply rooted in his vision to "change the face of anesthesiology" and create a department that will not be matched for another 100 years.
Dr. Mathew received his medical degree from Southwestern Medical School in Dallas, Texas. He went on to complete a residency in anesthesiology and a fellowship in cardiovascular anesthesiology at Yale University School of Medicine. In 1998, Dr. Mathew joined the faculty at Duke Anesthesiology and has since served as director of the Perioperative Transesophageal Echocardiography (TEE), director of the Neurological Outcome Research Group and the Clinical Research Unit, chief of the Cardiothoracic Anesthesia Division, and executive vice chair of performance and operations within the department. Since being appointed chairman in March of 2015, Dr. Mathew has made significant advances in the field of pain management with the establishment of the Center for Translational Pain Medicine and the opening of a first-of-its-kind multispecialty pain practice, Duke Innovative Pain Therapies – both of which have a common core mission of transforming the way that painful conditions are diagnosed and treated, including the development of novel therapies to improve patient care. In a quest for Duke Anesthesiology to be the future of the perioperative specialty, Dr. Mathew helped carry to fruition a global collaboration, the Morpheus Consortium, and the opening of Duke Perioperative Pain Care, the first clinic in the nation that has the same team of pain specialists see patients before, during and after surgery with a focus on optimizing their functional recovery.
Dr. Mathew is an active physician-scientist funded by the National Institutes of Health for his ground breaking research on perioperative neurocognition and functional neuronal connectivity, particularly in the setting of cardiac surgery. He has published more than 200 manuscripts and book chapters and is the editor of the leading textbook on perioperative TEE. He is also the current president of the Association of Cardiac Anesthesiologists and was elected into the Foundation for Anesthesia Education and Research's Academy of Research Mentors, a sign of Dr. Mathew's strong commitment to investing in human capital and training future generations of leading researchers, clinicians and educators.
Our Commitment
The Next Fifty Years of Duke Anesthesiology
Duke Anesthesiology has an incredibly broad sphere of influence. What began here in Durham has spread not only across the nation, but also across oceans, to countries all around the globe. Our research efforts have impacted those who explore the depths of the ocean, those who brave the heights of Mount Everest, and so much in-between. The department's influence is, quite literally, out of this world, thanks to collaboration with the National Aeronautics and Space Administration (NASA). Furthermore, we treat an exceedingly broad patient population—from the unborn child to the geriatric—across the spectrum of human injury and illness. It seems there are no limits to Duke Anesthesiology's outrageous ambition.
The astonishing growth the department has enjoyed in the past 50 years can be credited to a steadfast dedication to our department's mission: Extraordinary care through a unique culture of innovation, education, research, and professional growth. This shared vision and the passion that fuels it have led Duke Anesthesiology to its rightful place among the greatest anesthesiology departments in the world. As we look to the next 50 years of Duke Anesthesiology, we will continue to fulfill our mission in the following ways:
Extraordinary Care
We will continue to be compassionate clinicians and treat our patients with respect and dignity.
We will continue to pursue cutting-edge basic, translational, and clinical research, which will directly impact patient care and quality of life.
We will be leaders in pain management, and will continue to explore the connection between acute and chronic pain, and find new ways to combat its devastating outcome.
We will continue to refine and analyze our patient outcome databases to identify the many long-term effects of anesthesia and surgery on the human body.
We will find ways to facilitate better patient recoveries, shorter hospital stays, and fewer complications by mastering cutting-edge techniques, particularly regional
anesthesia techniques.
We will actively seek out patient populations in great need and develop unique approaches to treat these individuals through our global initiatives and dedicated programs, such as the Veteran's Injury Pain Research (VIPR) initiative to support wounded war heroes.
We will make the most of the many exciting new facilities that are currently under construction on Duke's campus and will be good stewards of our resources so that we can develop these centers to their full potential.
A Unique Culture of Innovation
We will cherish the spirit of ingenuity that is a part of Duke Anesthesiology's legacy and will allow this spirit to permeate every aspect of what we do professionally, particularly in our education and research programs.
We will pioneer new technologies and refine those already in use, such as transesophageal echocardiography (TEE), ultrasound for regional anesthesia, and continuous peripheral nerve blocks.
We will recruit trainees and faculty who exhibit creativity and ambition.
We will continue to develop programs that reward and inspire our faculty, such as the department's annual DREAM Innovation Grant (DIG).
Education
We will empower the leaders of tomorrow through our educational programs and constantly explore new ways to enhance these programs.
We will continue to mentor physician scientists who share our passion for solving problems and for discovering new approaches to patient care through innovative programs, such as Academic Career Enrichment Scholars (ACES) and NIH-funded training grants, which inspire medical students, residents, and fellows alike.
We will be leaders in educational technology and will continue to explore the power of interactive games and simulation that are made possible by departmental programs and centers like the Human Simulation and Patient Safety Center (HSPSC).
Research
We will identify new ways to protect the body's vital organs and systems from response to various forms of disease, injury, and stress that may compromise a patient's health and wellbeing.
We will improve quality of life by reducing the incidence of negative outcomes, such as postoperative nausea and vomiting, and cognitive decline.
We will optimize drug development and delivery through investments in our Human Pharmacology Lab that will yield a better understanding of perioperative pharmaco-dynamics and pharmacokinetics.
We will gain insight into the health and homeostasis of the human body through study of free radical biology, oxygen biochemistry, and mitochondrial function.
We will make breakthroughs in perioperative genomics and identify new genetic variants associated with perioperative adverse events.
We will seek to advance our knowledge of the nuances of neuroplasticity and the various mechanisms by which acute pain can develop into chronic pain.
We will continue to explore the role of anesthesia in perioperative morbidity and mortality through an expansion of perioperative databases. We will improve patient safety through better teamwork, communication, and standardization of clinical practices.
Professional Growth
We will treat one another with kindness and respect, and help our colleagues develop their careers.
We will mentor leaders of tomorrow.
We will improve patient safety by enhancing teamwork, communication, and standardization of clinical programs through the development of new centers, such as the VAMC's Patient Safety Center of Inquiry (PSCI), and new protocols, such as the Enhanced Recovery After Surgery (ERAS) program.
We will continue to expand our off-site locations, as we have done at Durham Regional Hospital and Duke Raleigh Hospital.
We will demonstrate the value the anesthesiologist brings to the medical field through innovation, research, and the anesthesia care team model.
We will collaborate with advanced practice providers to make anesthesia and analgesia safer for our patients.
We will recruit and retain world-class faculty through endowed professorships and philanthropic organizations like the Developing Research Excellence in Anesthesia Management (DREAM) Campaign.
We are filled with pride as we reflect on our distinguished past. We honor the leaders of the past and those who have left Duke to lead elsewhere, looking to them as a source of knowledge as we learn from both their challenges and successes.
We are filled with excitement as we experience our present, because of the work of our current faculty members as well as the accomplishments of over 1,000 alumni and former faculty in both private practice and academia who are a part of our family.
We are filled with optimism as we look to our future. Some may claim that our goals are too ambitious, pointing to the many foreseeable challenges, such as the mounting cost of national healthcare, impending healthcare reform, and an ever-increasing patient population. At Duke, however, we believe that it is this very ambition that will ensure our future success. Like those who came before us, we will greet this change with open arms, using it as a catalyst to propel the department forward.
With our mission to guide us, and our passion to sustain us, we will take control of our own destiny. There are no limits to what can be achieved in the next 50 years of Duke Anesthesiology. Our story has only just begun.