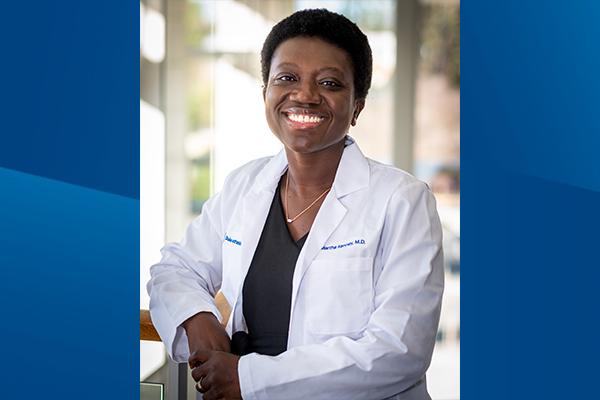 The National Institutes of Health's National Heart, Lung and Blood Institute has awarded Duke Anesthesiology's Martha Kenney, MD, a five-year $672,334 K award for her project titled, "Predictors of Pain Severity and Pain-Related Outcomes in Individuals with Sickle Cell Disease."
Severe, disabling pain is the hallmark of sickle cell disease (SCD), which is a painful, inherited disorder that affects approximately 100,000 people in the nation – more than half of these individuals develop chronic or persistent pain that is often severe and disabling. SCD pain is associated with poor quality of life, early mortality, and high health care costs. Clinicians face great challenges in managing SCD pain because of the poor understanding of the etiology of chronic/persistent SCD pain and the absence of validated clinical prognostic tools that can accurately identify individuals with SCD who are at risk of developing severe, persistent pain with associated physical and/or psychological disability.
The goal of Kenney's project is to identify the factors that predict severe pain outcomes in adolescents and young adults with SCD in order to improve pain management strategies and guide future studies of non-opioid therapies for treatment of their pain. She aims to achieve this goal by using a prospective, longitudinal study design informed by the biopsychosocial model of pain. Her research is supported by the hypothesis that pain-specific psychological and sensory factors are strong, modifiable predictors of SCD pain severity and pain-related outcomes. The understanding of pain-specific psychological and sensory predictors of SCD pain outcomes is anticipated to have important implications for 1) identifying SCD patients who are at risk for severe pain outcomes, 2) informing preventive and therapeutic management of SCD pain, and 3) selecting patients for clinical trials of non-opioid interventions for SCD pain.
The hypothesis will be tested by pursuing two specific aims: Aim 1) Determine psychological predictors of pain outcomes; and Aim 2) Ascertain the strength of pain distribution and sensitivity as predictors of pain outcomes. Kenney will use reliable and well-validated pain-specific patient-reported outcome questionnaires to evaluate the strength of psychological factors for predicting pain severity and other pain-related outcomes in the study cohort (Aim 1) and will use body mapping and quantitative sensory testing to examine sensory predictors of pain outcomes (Aim 2).
"I'm thrilled about this grant and the chance it gives me to push ahead with understanding pain in people living with sickle cell disease," says Kenney, assistant professor in anesthesiology. "And I'm truly grateful for the incredible support that I have found at Duke."