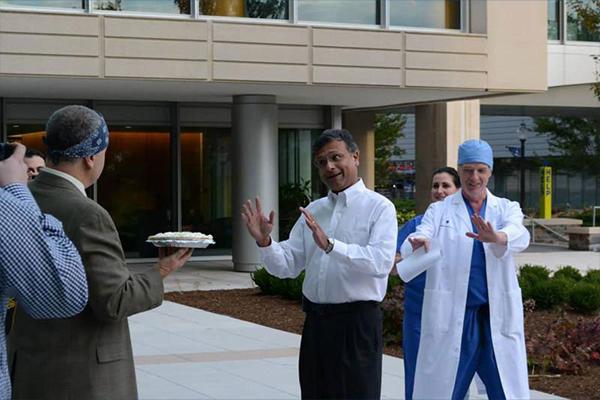 On November 5th, Interim Chair of the Department of Anesthesiology, Dr. Joseph Mathew, graciously accepted a pie in the face for being the "winner" of the Department of Anesthesiology's first annual Pie-in-the-Face Global Health Fundraiser to support resident travel expenses related to their Global Health Project.
This year's fundraiser gave people within the department the opportunity to donate money towards Dr. Annemarie Thompson, Dr. Mark Stafford-Smith, or Dr. Mathew. The person who received the most donations in their name would receive the celebratory pie. Dr. Eddie Sanders from Duke Regional Hospital had the honor of throwing the pie as a result of donating the largest amount of money.
Despite Dr. Mathew receiving $1,356.67 towards him and being the official winner, Dr. Stafford-Smith, with $231.67, and Dr. Thompson, with $1,191.66, were not safe from the flying pies. Dr. Adeyemi Olufolabi surprised Dr. Thompson with a pie to the face, and Dr. Stafford-Smith never saw Dr. Mathew coming with surprise pie leftovers. Please enjoy photos taken from the event, and we look forward to next year's fundraiser!