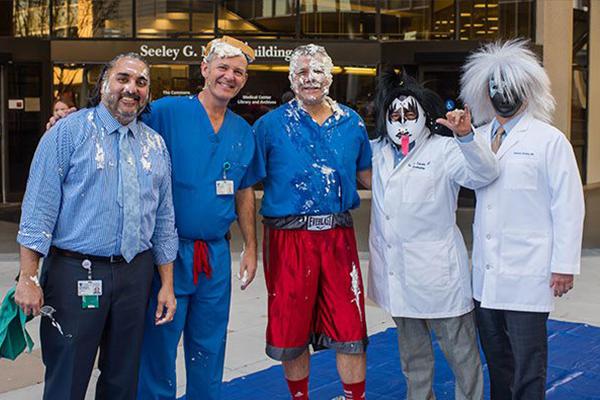 For the third year in a row, a crowd gathered outside the Trent Semans Center on December 7 for Duke Anesthesiology's Pie in the Face fundraising event to watch the top donor throw the honorary pie at the contest "competitor" who raised the most money, all in the name of global health!
This year's winner, Dr. Eddie Sanders, came prepared as Katie Galbraith, president of Duke Regional Hospital, threw two honorary pies on behalf of the top donor, Shawn West, administrative director for Regional Anesthesia, PLLC. The tables then turned as last year's contestants, John Borrelli and Dr. Sol Aronson, made quite the entrance and surprised Dr. Sanders with two additional pies to the tune of KISS, Dr. Sanders' favorite rock band. And, there was no escaping a pie in the face for each of the runner-up contestants, Drs. Stuart Grant and Dhanesh Gupta!
This year's three "competitors" raised $6,366 – the largest Pie in the Face fundraising total to date which will go toward departmental residents' travel expenses for their global health missions. Dr. Sanders raised $4,280, Dr. Grant raised $1,291 and Dr. Gupta raised $795. Thank you to all of the donors for their generosity and the contestants for participating in this year's fundraiser!
Pie in the Face is an annual global health fundraiser that Duke Anesthesiology began in 2014. Three "competitors" are chosen from the department each year. The person who earns the most donations in their name receives the celebratory pie in the face; the top donor receives the honor of throwing the pie. Previous Pie in the Face winners include Duke Anesthesiology's chairman, Dr. Joseph Mathew, and Dr. Aronson. Anesthesia plays a critical role in global health care and there is a great need for anesthesiologists abroad. In response, Duke Anesthesiology continues to take steps to encourage its global presence in countries that need it the most.