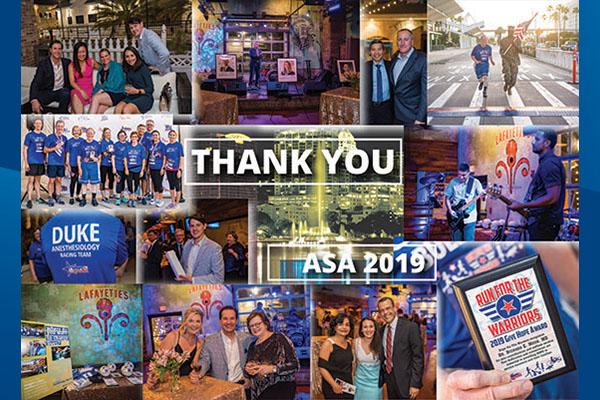 We would like to thank all members of our department who helped make this year's American Society of Anesthesiologists (ASA) meeting in Orlando a success. Duke Anesthesiology made a big impression at this year's event with 43 faculty and trainees participating in the conference, including 86 lectures, workshops, panel discussions, presentations, and more.
During the conference, we hosted Duke Anesthesiology's 31st Annual ASA Alumni Event at Lafayette's Music Room for a night of celebration. Thanks to our winning bidders at this year's silent auction of Duke basketballs, we raised $2,450 to benefit our Global Health Program; these funds will directly support our residents' global health missions. Two other anticipated highlights of the evening were: 1) the reveal of the 2020 DREAM Innovation Grant (DIG) recipients and 2) the announcement of the 2020 scholars of our Academy for Building Leadership Excellence (ABLE) Program.
Congratulations to:
DIGs are part of the Duke DREAM Campaign, which was launched in 2007. These grants support innovative high-risk and potentially high-reward investigations to accelerate anesthesia and pain management research. Each DIG recipient can receive up to $30,000 in seed money for their pilot study which ultimately helps them apply for and obtain extramural funding. To date, $842,378 has been funded by DIGs, which has led to nearly $15 million in extramural funding. We would like to express our appreciation to the DIG Application Review Committee and the donors who continue to support our research programs and initiatives, ultimately helping us transform the future of patient care. Please click here to make an online donation to our DREAM Campaign.
The ABLE Program is designed to accelerate career development for junior faculty in their chosen pathway by pairing them in a one-year program with a personal coach. Congratulations to those selected for the 2020 ABLE Program, which officially begins on January 2nd: Drs. Nazish Hashmi (Education), Grace McCarthy (Education), Aurelio Alonso (Clinical Operations), Brian Starr (Clinical Operations), W. Michael Bullock (Clinical Research), Marie-Louise Meng (Clinical Research) and Katherine Martucci (Translational Research).
It was also another successful fundraiser at the 10th Annual ASA-Sponsored Run For The Warriors 5k race, dedicated to the men and women wounded during service, their families and families of the fallen. We are proud to announce that for the ninth consecutive year, the Duke Anesthesiology team won first place for fundraising - a total of $8,100 in donations. All proceeds from the race benefit wounded warriors and their families through the many Hope For The Warriors® programs. At the event, we were presented with the 2019 Give Hope Award for our contributions and selfless service. And, Dr. Richard Moon received the 2019 Top Fundraiser Award. Thank you to Richard and all of the race participants and donors who raised money for this nonprofit veteran service organization. A special congratulations goes to our teammates who medaled in their division in this year's race: Professor Mike Grocott and Drs. Joseph Mathew, Richard Moon and Annemarie Thompson.
Click here for a photo tour of our 2019 ASA events
We sincerely appreciate your continued support of Duke Anesthesiology and your commitment to our mission of providing extraordinary care through a unique culture of innovation, education, research and professional growth. We are particularly grateful to those who worked in the operating rooms during the ASA so that others on our team could attend. And, thank you to Stacey Hilton and Jaylynn Nash for organizing our ASA events. Here's to a successful 2020 and we look forward to celebrating at our ASA Alumni Event next October in Washington, DC.