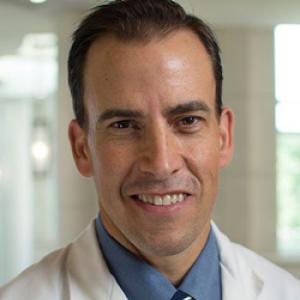 Associate Professor of Anesthesiology
2013 DIG Research Projects | "Neurointerventional Regional Anesthesia to Improve Hand Rehabilitation in Stroke"
Background
Before coming to Duke, I completed an undergraduate degree from Arizona State University, near my hometown of Phoenix, Arizona. I left the sunny Southwestern skies to attend Loyola Stritch School of Medicine in Chicago. Despite the change in climate, I enjoyed my time and training in the Windy City and stayed at Loyola to complete my anesthesiology residency. Upon completing my residency, I pursued a regional anesthesiology fellowship at Hospital for Special Surgery in New York. Anesthesiology and regional anesthesia were a natural pursuit for me because I enjoyed the operating room setting, the ability to practice acute care in critical situations among a diverse patient population, and the opportunity to comfort patients in a small but crucial window of time. These interests made Duke an ideal place for me, giving me the opportunity to practice in a renowned regional anesthesiology program, to work among talented faculty, and to pursue Duke's unique and unrelenting focus on improving patient care and outcomes.
Upon joining the anesthesiology department and Ambulatory Division at Duke, I was surrounded by an amazing team that provided ideas, input, and support, which led to our current research pursuit. Our research focuses on investigating how peripheral nerve blockade, or regional anesthesia, can be used to improve hand rehabilitation after stroke. Peripheral nerve blockade involves depositing local anesthetic, or numbing medication, around peripheral nerves, or groups of nerves, to anesthetize, or block, regions of the body for surgical anesthesia and/or postoperative pain management. Peripheral nerve blockade temporarily blocks the transmission of messages along the nerve from the blocked body part to the brain. Research by our group and others has demonstrated that brain activity and organization transiently changes subsequent to peripheral nerve blockade of these messages. Subsequent to stroke, there are also changes that occur in the brain, both from the injury itself and the brain's effort to adapt to that injury. While the brain's efforts are intended to be adaptive, they can unfortunately be maladaptive, thereby further limiting hand rehabilitation after stroke. We propose that peripheral nerve blockade can be used to facilitate adaptive changes in the brain, optimizing brain activity and reorganization for improved hand rehabilitation after stroke.
Research
The proposed model of Neurointerventional Regional Anesthesia challenges the current paradigm of hand rehabilitation in stroke patients. Given the increasing prevalence of stroke and its high level of disability, this novel rehabilitation strategy has the potential to significantly improve hand rehabilitation in stroke, ultimately leading to faster and more complete recovery.
The DREAM Campaign is providing our group the opportunity to pursue this area of study. Without the generous contributions of DREAM supporters, the initial financial support for this project would be challenging. I encourage you to consider supporting the DREAM Campaign and giving innovative new ideas a chance to be explored!
Personal
My time outside of anesthesiology is spent with my family. With two boys, my wife and I are always busy, always entertained, and always grateful for the time we have together.
View Dr. Melton's Spring 2013 DIG Report