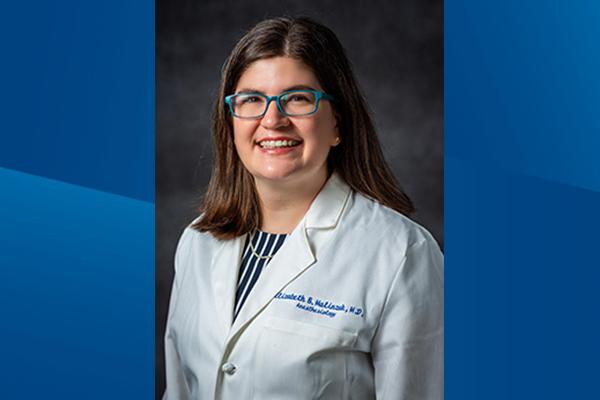 We are pleased to announce that Duke Anesthesiology's Elizabeth Malinzak, MD, has been selected as advisory dean for the Doctor of Medicine program at the Duke University School of Medicine. The program prepares a diverse student body in pursuing a spectrum of medical career options in order to become physician leaders who can advance biomedical research and improve local, national and global health.
Dr. Malinzak is an exceptional educator with a strong record of accomplishment. She completed medical school and an anesthesiology residency at Duke University and pursued a pediatric anesthesiology fellowship at the University of North Carolina. In the Department of Anesthesiology, she currently serves as the director of medical student education and previously served as director for anesthesia services at the Duke Eye Center. 
Dr. Malinzak's academic interests include medical education and simulation, social media, leadership development, gender equity, and advocacy for young physicians. She is an active member of the School of Medicine Curriculum and Admissions Committees. Dr. Malinzak is also a fellow of the American Society of Anesthesiologists (ASA) and was honored this year with the Distinguished Educator in Anesthesiology Award given by the ASA and Society of Education in Anesthesia. 
"I am thrilled to join an exceptional team of educators and champions for Duke's medical students, and represent the Department of Anesthesiology in the School of Medicine," says Dr. Malinzak, associate professor of anesthesiology. "As a Duke Med alumna, this role has an additional layer of personal significance. My advisory dean during medical school, Dr. Bob Drucker, along with Drs. Caroline Haynes, Delbert Wigfall and Philip Goodman, are the inspiration for my academic interest in medical education; they set the example for how faculty should support students during the ups and downs of medical training. Even after medical school, advisory deans continue to have an impact in many Duke Med graduates' lives. I am excited to encourage and promote medical students over the course of their careers and see the great things they will accomplish. This is the culmination of a dream of mine since I was a medical student."
We look forward to the contributions that she will make to the existing advisory dean team. Please join us in congratulating Dr. Malinzak on her new appointment.  
Source: (May 9, 2023) Duke University School of Medicine Announcement