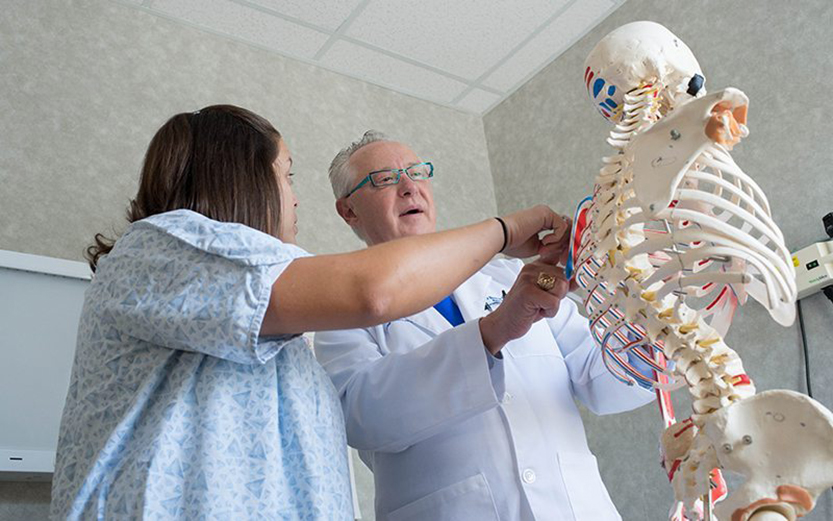 Our Outpatient Pain Services are led by Dr. Richard Boortz-Marx, Section Chief of Interventional Pain Medicine and Dr. Steve Prakken, Section Chief of the Medical Pain Service. With the growth of both interventional and medical services, we will be relocating from the clinic on Morreene Road to a dedicated Pain Medicine Clinic at 4309 Medical Park Drive in January 2014. This move will facilitate the synergy between medical and interventional care and places us in close proximity to the Davis Ambulatory Surgery Center where many procedures and advanced interventions will be performed. It will additionally allow for dedicated staff and services needed by acute, sub-acute and chronic pain patients.
Duke's Outpatient Pain Services have a focus on comprehensive management and the appropriate use of interventions for both diagnostic and therapeutic indications. The Medical Pain Service will provide in-depth assessment of high-risk chronic pain patients. Medical, psychosocial and pharmacologic needs will be evaluated. Risk stratification will be implemented to separate high-risk patients from those that may be appropriately treated in a general medicine setting. Increased communication with referring physicians and case managers will be emphasized. Educational opportunities for community clinics will be developed to enhance the comfort level of practitioners who work with CPP's.
The range of services in the Interventional Pain Service includes diagnostic and procedural intervention for back and neck pain, radiofrequency lesioning for spine arthritis pain, nerve blocks for treatment of neuropathy, sympathetic blocks, and invasive procedures such as spinal cord stimulation. The clinic also cares for outpatients with pain from cancer, or cancer treatments, including a full range of neurolytic and spinal infusion therapies such as implanted targeted drug delivery devices. The Outpatient Pain Service combines the skills of practitioners from multiple specialties with the same goal: providing state-of-the-art, patient-centered and cost-effective care.
The Department of Anesthesiology has built a Hospital Consultation Service in response to our patients' need for comprehensive pain management and care coordination with the Duke Spine Center, Duke University Hospital, and the Duke Cancer Institute. Our consultation service will evaluate patients in the clinics, on the inpatient wards, and within the Cancer Institute, while coordinating care with our existing outpatient medical and interventional pain management services. Our goal is to promote the development of multidisciplinary care maps and the practice of evidence-based pain medicine throughout the Duke Health System.