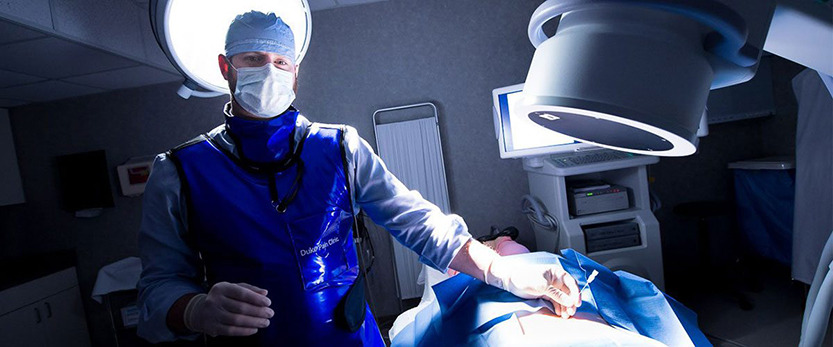 The clinical Pain Medicine Program has recently expanded both outpatient and hospital services. Responding to Duke Health System needs for care coordination and more extensive medical management, a Medical Pain Service (MPS) Team has been developed, led by Dr. Steve Prakken.  With an extensive background in the pharmacological and clinical treatment of chronic pain and its comorbid diagnoses, he is able to bring a unique synthesis of disciplines to the clinic.  The MPS team will evaluate and manage higher-risk pain patients, assist with community physician education in pain treatment, and coordinate pain management throughout the Duke Health system. The MPS works in concert with the Interventional Pain Medicine (IPM) Team, led by Dr. Richard Boortz-Marx. With decades of experience in interventional therapies and implantation techniques, he has grown the IPM Team role for both chronic conditions and the Duke Cancer Institute (DCI).  This expansion further improves our ability to offer interventions for spine and back pain, sciatica, nerve injury, arthritis, cancer pain and spasticity. It additionally expands our role in implantation techniques such as spinal cord stimulation and targeted drug delivery systems (spinal infusion pumps).
The third critically-important arm of the Pain Program is the Consult Pain Service led by Dr. Brian Ginsberg. Answering to consultative needs of hospital patients, spine patients and the DCI, we have expanded the role of the prior Acute Pain Service to include consultative capabilities and interventional techniques for these patient groups. The synergy between these three arms of the Pain Program will facilitate care coordination throughout the health system.
Collectively, these changes allow Duke Pain Medicine to achieve our goal of delivering comprehensive diagnostic and interventional pain medicine now while seeking translational scientific discovery to reduce the burden of chronic pain in the future.