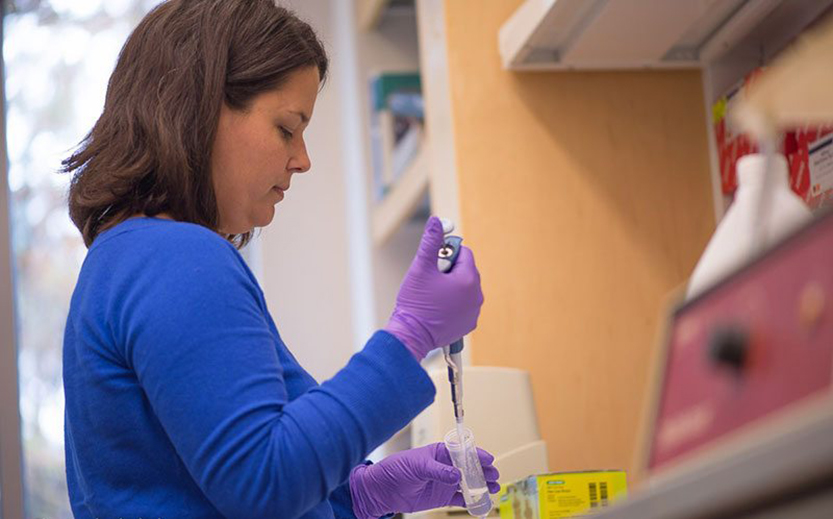 Monthly Seminars
Participants include faculty, fellows, and students of Duke Anesthesiology, Neurobiology, Neurology, Cell Biology, Psychiatry, Medicine, and Bioengineering.
November 18, 2021
"Neural-Glial Interactions in Substance Use Disorders"
Staci Bilbo, PhD
Professor of Psychology and Neuroscience, Duke University
October 14, 2021
"Itch and Pain Signaling Mechanisms"
Hongzhen Hu, PhD
Associate Professor of Anesthesiology, Center for the Study of Itch & Sensory Disorders
Washington University School of Medicine, St Louis
July 8, 2021
"Leveraging Functional Selectivity in the Search for Addiction Therapeutics"
Lauren M. Slosky, PhD
Postdoctoral Fellow, Department of Cell Biology, Duke University
May 20, 2021
"Diabetic Neuropathy: One Disease or Two?"
Eva L. Feldman, MD, PhD
University of Michigan
April 15, 2021
"Fibromyalgia: What Science Can Contribute to a Controversial Disorder"
Claudia Sommer, PhD
University Wurzburg
March 18, 2021
"Sympathetic Modulation of Oral Cancer Pain and Progression"
Nicole N. Scheff, PhD
University of Pittsburgh
February 18, 2021
"Chronic Itch: Cellular and Molecular Insight"
Santosh Mishra, M. Tech, PhD 
Assistant Professor of Neuroscience
North Carolina State University
January  21, 2021
"Modeling Pain in Humans and Mice"
Clifford Woolf, MB, BCh, PhD
Director, F.M. Kirby Neurobiology Center
Professor of Neurobiology and Neurology
Harvard Medical School
December 10, 2020
"Diverse Mechanisms Underlying Opioid Analgesia"
YanGang Sun, PhD
Principal Investigator
Institute of Neuroscience Chinese Academy of Science
Shanghai, China
November 12, 2020
"Neural Circuit Plasticity in Chronic Pain and Postoperative Cognitive Dysfunction"
Guang Yang, PhD
Associate Professor
Department of Anesthesiology
Columbia University
July 22, 2020
"Neuronal Interactions with Microbes and Immune Cells in Pain and Host-Defense"
Isaac Chiu, PhD
Assistant Professor
Department of Immunology
Harvard Medical School
December 13, 2019
"Stem Cells and Regenerative Therapy"
Su-Chun Zhang, MD, PhD
Professor & Director Neuroscience & Behavioral Disorders
Duke-NUS Graduate Medical School
Singapore
November 21, 2019
"The Role of the ER Stress Sensor IREa-XBP1 in Pain"
Edgar Alfonso Romero-Sandoval, PhD
Associate Professor of Anesthesiology
Wake Forest School of Medicine
November 12, 2019
"Roles of Lysophosphatidic Acid (LPA) Receptor Signaling in the Development and Maintenance of Neuropathic Pain & Fibromyalgia"
Hiroshi Ueda, PhD
Department of Molecular Pharmacology
Kyoto University Graduate School of Pharmaceutical Sciences
October 30, 2019
"Investigating the Role of Nicotine Acetylcholine Receptors in Neuropathic Pain"
M. Imad Damaj, PhD
Professor of Pharmacology and Toxicology
Virginia Commonwealth University
September 18, 2019
"Chronic Postoperative Pain: Prevalence, Mechanisms and More"
David J. Clark, MD, PhD
Professor of Anesthesiology
Perioperative and Pain Medicine
Palo Alto Veterans Affairs Health Care System
May 2, 2019
"Drug Development for Migraine"
Cen Xu, PhD
Scientific Director
Department of Neuroscience AMGEN, Inc.
December 13, 2018
"Management of Chronic Pain and Opioid Tolerance by Bone Marrow Stem Cells"
Jianguo Chen, MD, PhD
Professor of Anesthesiology
Director of Cleveland Clinic Multidisciplinary Pain Medicine Fellowship Program
President of American Academy of Pain Medicine
November 15, 2018
"Brainstem Mechanisms and Descending Modulatory Circuits of Pain"
Mary Heinricher
Professor and Vice Chair for Research
Department of Neurosurgery
Associate Dean for Basic Research, School of Medicine
Oregon Health & Science University
October 18, 2018
"Neuromodulation of Pain"
Guan Yun
Associate Professor of Anesthesiology
John Hopkins University School of Medicine
Baltimore
August 16, 2018
"Mechanism of Activation of Peripheral Nerve Stimulation for the Treatment of Headache"
Michael Oshinsky
Program Director, NINDS
July 26, 2018
"Drug Development for Neuroinflammation and Pain"
Tarek Samad
Head, MS and Neuroinflammation Research
Sanofi R&D
April 19, 2018
"Sympathetic Control of Neuropathic Pain"
Jun-Ming Zhang, MD, MSc
Professor and Vice Chair for Research
Department of Anesthesiology, University of Cincinnati
March 15, 2018
"Translational Regulation of Nociceptors and Transition from Acute to Chronic Pain"
Theodore J. Price, PhD
Associate Professor, University of Texas
Program Head, Neuroscience BS
School of Behavioral and Brain Sciences
February 15, 2018
"Structures of TRP Ion Channels and Their Implication for Pain"
Seok-Yong Lee, PhD
Associate Professor, Department of Biochemistry
Duke University
January 24, 2018
"Neural Substrates of Pain Unpleasantness and its Modulation by Opioids"
Gregory Scherrer, PhD
Assistant Professor, Stanford University
New York Stem Cell Foundation – Robertson Investigator
December 7, 2017
"Resolvins & Novel Pro-Resolving Mediators in Infectious Inflammation & Tissue Regeneration"
Charles Nicholas Serhan, PhD, DSc
Simon Gelman Professor of Anaesthesia
Brigham and Women's Hospital
November 16, 2017
"A Neuronal Circuit That Responds to Threats and Controls Appetite"
Richard D. Palmiter, PhD
Professor of Biochemistry and Genome Science
University of Washington School of Medicine
Investigator Howard Hughes Medical Institute
October 12, 2017
"The Neural Circuits of Pain"
Sarah E. Ross, PhD
Assistant Professor of Neurobiology
Pittsburgh Center for Pain Research, University of Pittsburgh
September 14, 2017
"Chronic Pain after Trauma: Innate and Adaptive Immunity"
David Clark, MD, PhD
Professor of Anesthesiology
Vice-Chair for Research in Department of Anesthesiology
Stanford University
August 24, 2017
"Cortico-Limbic Pain Mechanisms"
Vivianne L. Tawfik, MD, PhD
Assistant Professor, Department of Anesthesiology
Stanford University School of Medicine
July 20, 2017
"G Protein-Coupled Receptors: Dynamic Machines for Signaling Pain, Itch and Neurogenic Inflammation"
Nigel W. Bunnett, PhD
Carrus Professor of Surgery and Pharmacology
Columbia University College of Physicians and Surgeons
June 21-23, 2017
Translational Pain Research Symposium
Duke Kunshan University
Kunshan, China
June 8, 2017
"Cortico-Limbic Pain Mechanisms"
Volker Neugebauer, MD, PhD
Professor and Chair Department of Pharmacology & Neuroscience
Texas Tech University, School of Medicine
May 18, 2017
"Mechanisms of Pain and Itch"
Xinzhong Dong, PhD
Professor, Department of Neuroscience
John Hopkins University, School of Medicine
Investigator, Howard Hughes Medical Institute
April 20, 2017
"Inflammation and Ectopic Spontaneous Activity: New Findings in Studies on Chemotherapy Induced Peripheral Neuropathy in Humans & Animals"
Patrick Dougherty, PhD
H.E.B. Professor in Cancer Research,
Associate Division Head for Research, Anesthesiology and Critical Care
University of Texas, MD Anderson Cancer Center
March 29, 2017
"Remote Control of Animal Behavior Via Genetically Encoded Actuators"
Ali D. Güler, PhD
Assistant Professor of Biology
University of Virginia
March 16, 2017
"A Multiple-Systems Approach to Understanding Pain"
Tor Wager, PhD
Professor of Psychology and Neuroscience
Cognitive Science at the University of Colorado
February 16, 2017
Andrew H. Ahn
Eli Lilly and Company
January 19, 2017
"Using Primate Models to Advance Development of Analgesics and Antipruritics"
Mei-Chuan Ko, PhD
Professor, Department of Physiology & Pharmacology
Wake Forest University, School of Medicine
September 21, 2016
"Sleep Deprivation and Pain"
Alban Latremoliere, PhD
Postdoctoral Fellow
Children's Hospital
Harvard Medical School
September 14, 2016
"Pain and Touch Circuit"
Wenqin Luo
Assistant Professor of Neuroscience
University of Pennsylvania
September 7, 2016
"Molecular Mechanisms and Drug Discovery in Sensory Neurobiology"
Ajay Yekkirala
Postdoctoral Fellow
Children's Hospital
Harvard Medical School, Boston
August 31, 2016
"Roles of Inflammasome in Immunity, Inflammation, and Associated Diseases"
Jenny Ting
Distinguished Professor of University of North Carolina
Professor of Microbiology and Immunology
Co-Director, Inflammatory Disease Institute
August 17, 2016
"Human Pain Genetics and Translational Clock"
Luda Diatchenko, MD, PhD
Professor of Montreal University
Canada Excellence Research Chair in Human Pain Genetics
Allan Edwards Centre for Research on Pain
May 25, 2016
"Sensory Cortex and Pain"
Oleg V. Favorov, PhD
Research Associate Professor
Department of Bıomedıcal Engineering
University of North Carolina
May 24, 2016 (Neurobiology Seminar)
"Natural Products as Probes of the Pain Pathway: From Physiology to Atomic Structure"
David Julius, PhD
UCSF, N Professor & Chair of Physiology
Morris Herzstein Chair in Molecular Biology and Medicine
UCSF
May 18, 2016
"Elucidating an Affective Pain Circuit that Creates a Threat Memory"
Richard D Palmiter
University of Washington
Professor
Department of Biochemistry
Investigator, HHMI; Note this seminar will be held at Bryan 301
April 27, 2016
"Cortico-Striatal Regulation of Conflicting Behavioral Drives (Pain vs. Food)"
Neil Schwartz
Senior Postdoctoral Fellow
Department of Neurology
UCSF
April 20, 2016
"A Novel Molecular Switch Regulating Transition from Acute to Chronic Pain"
Annemieke Kavelaars
Professor
Department of Symptom Research
Division of Internal Medicine
The University of Texas
MD Anderson Cancer Center
April 13, 2016
"Structural Studies of Opioid Receptors"
Nikolay, V. Dokholyan
Michael Hooker Distinguished Professor, UNC
Department of Biochemistry and Biophysics
March 23, 2016
"Sex Differences in the Cellular and Genetic Mediation of Pain and Analgesia"
Jeffrey Mogil
Professor
Department of Psychology
Alan Edwards Centre for Research on Pain
McGill University
Montreal
February 3, 2016
"Signal Transduction and Second Messenger Signaling in Pain Sensory Neurons"
Jon Levine
Professor
UCSF
December 16, 2015
"Immune and Glial Modulation of Chronic Pain"
Linda Watkins, PhD
Professor of Department of Psychology and Neurobiology
Director of Neuroscience Program
University of Colorado
December 2, 2015
"Epigenetic Mechanisms of Neuropathic Pain"
Yuanxing Tao, PhD
Professor and Vice Chair
Department of Anesthesiology
Rutgers, State University of New Jersey
November 11, 2015
"From Receptors to Pain: The Molecular Dynamics of Pain"
Michael Salter, MD, PhD
Professor of University of Toronto
Chief of Research at The Hospital for Sick Children (SickKids) Research Institute
October 7, 2015
"How to Publish Papers in High Impact Journals"
Brett Benedetti, PhD
Associate Editor, Nature Medicine
August 19, 2015
"Translational Pain Research: Targeting Central Sensitization"
Robert W. Gereau IV, PhD
Seymour and Rose T. Brown Professor
Director of Washington University Pain Center
Department of Anesthesiology
Washington University School of Medicine
June 9, 2015
First Duke Pain Symposium
"Translational Pain Research: Bridging the Gap Between Basic Research & Clinical Applications"
Searle Conference Center
Duke University
Rohini Kuner, Professor, University of Heidelberg, Germany
Thomas Kuner, Professor, University of Heidelberg, Germany
Jürgen Sandkühler, MD, PhD, Professor and Director for the Center for Brain Research, Medical University of Vienna
Francis Keefe, PhD, Professor of Duke Psychiatry
William Maxiner, Professor of UNC
James Eisenach, Professor of Wake Forest University
Thomas Buchheit, Director of Duke Pain Management
Tim Collins, Director of Duke Trigeminal Pain Clinic
Mark Zylka, Associate Professor, UNC
Neil Castle, Pfizer
Wolfgang Liedtke, Duke Neurology
May 20, 2015
"Mechanisms That Drive Skeletal Pain Throughout the Seasons of Life"
Patrick Mantyh, PhD, JD
Professor
Department of Pharmacology
University of Arizona
March 18, 2015
"Etiology and Genetics of Low Back Pain"
Michele Crites-Battie, PhD
Professor
Faculty of Rehabilitation Medicine
University of Alberta
January 21, 2015
"Intervertebral Disc Herniation and Low Back Pain"
Lori A. Setton, PhD
William Bevan Professor of Biomedical Engineering & Orthopaedic Surgery
Duke University
December 10, 2014 (Wednesday)
"Channeling Touch and Pain Transduction; Mechanisms that Detect and Protect"
Cheryl L Stucky
Professor
Department of Cell Biology
Medical College of Wisconsin
October 8, 2014 (Wednesday)
"Neurogenic Inflammation and Pancreatitis"
Rodger Liddle, MD
Professor of Medicine
Duke University
September 18, 2014
"Control of Spinal Cord Synaptic Transmission by Microglia and Chloride Transporter in Neuropathic Pain"
Yves De Koninck, PhD
Professor of Psychiatry & Neuroscience
Laval University
Director, Quebec Pain Research Network
Past-President, Canadian Association for Neuroscience
August 13, 2014
"Long-Term Consequences of Neonatal Tissue Damage for Synaptic Signaling in Adult Spinal Nociceptive Circuits"
Mark Baccei, PhD
Associate Professor
Pain Research Center, Department of Anesthesiology
University of Cincinnati Medical Center
Cincinnati
July 16, 2014
"Control of Sensory Neuronal Function by TRP Channels: Role in Chemosensation, Injury and Inflammation"
Sven Eric Jordt, PhD
Associate Professor
Duke Anesthesiology
May 15, 2014
"COMT Modulation of Pain Sensitivity: A Bench to Bedside Story"
Andrea Nackley, PhD
Associate Professor
Center for Neurosensory Disorders, UNC
April 17, 2014
"Interactions Between Pain and Itch Circuitry in the Spinal Cord"
Qiufu Ma
Professor
Department of Neurobiology
Harvard Medical School
March 13, 2014
"The Role of Nociceptor Neurons in Bacterial Host Defense and Inflammation"
Isaac Chiu
Instructor, Neuroscience Center
Harvard Medical School, Children's Hospital
February 20, 2014
"Unconventional Role of Extracelluar miRNAs in Pain Regulation"
Chul-Kyu Park and Temugin Berta
Ru-Rong Ji's Lab
January 16, 2014
"Inhibitory Modulation of Spinal Cord Pain Circuitry and Peripheral Nociceptors"
Seog-Bae Oh
Professor of the Department of Cognitive Sciences
Seoul National University
December 12, 2013
"Expression, Neurobiology and Treatment of Pain-Related Depression"
Stevens Negus
Professor
Department of Pharmacology and Toxicology
Virginia Commonwealth University
November 7, 2013
"The Nightlife of Astrocytes"
Maiken Nedergaard, MD, PhD
Professor and Director
Center for Translational Neuromedicine
University of Rochester Medical Center
October 17, 2013
"Mechaonoceptors"
Jorg Grandl
Neurobiology
September 12, 2013
"Nerve Injury, Amputation, and Epigenetics"
Thomas Buchheit, MD
Director of Pain Medicine
Duke Anesthesiology
July 18, 2013
"Molecular Mechanisms of Gabapentin and Astrocytes in Synaptogenesis and Pain Control"
Cagla Eroglu
Assistant Professor
Department of Cell Biology and Neurobiology
June 20, 2013
"Unraveling Complex Persistent Pain Conditions with Genetic and Phenotypic Biomarkers"
Williams Maixner, DDS
Distinguished Professor
University of North Carolina Dental School
Director, Regional Center for Neurosensory Disorders
May 16, 2013
"Network Mechanisms of Pain Suppression by Spinal Cord Stimulation"
Tianhe Zhang and Warren Grill
Department of Biomedical Engineering and Neurobiology
April 18, 2013
"Modulating Chloride Gradients to Reverse Maladaptive Plasticity of Neuropathic Pain"
Michele Yeo and Wolfgang Liedtke
Neurology
March 21, 2013
"Protect Chronic Pain by Pro-Resolution Lipid Mediators"
"Pain Control by Peripheral NMDA Receptors"
Chul-Kyu Park and Ru-Rong Ji
Anesthesiology
February 21, 2013
"Cellular Mechanisms of Pain and Itch"
Mark Zylka
Associate Professor
University of North Carolina
January 17, 2013
"Coping with Persistent Pain: Current State of the Science"
Francis Keefe
Professor
Duke Psychiatry
Chief Editor of Pain Journal
December 13, 2012
"TRP Channels and Mechanical Receptors"
Jorg Grandl
Assistant Professor
Duke Neurobiology
November 29, 2012
"TRPV4 and Trigeminal Pain"
Wolfgang Liedtke
Associate Professor
Duke Neurology and Neurobiology
October 4, 2012
"Spinal Cord Stimulation for Pain Management"
Billy Hugh
Professor
Duke Anesthesiology
Director of Pain Clinic
Sept 20, 2012
"Biomarkers for Phantom Pain"
Thomas Van De Van, MD
Assistant Professor
Duke Anesthesiology
July 12, 2012
"Neural Circuit of Trigeminal Pain System"
Fan Wang
Associate Professor
Duke Cell Biology
June 7, 2012
"Nociception in Drosophila"
Dan Tracey, PhD
Associate Professor
Duke Anesthesiology
May 12, 2012
"Neuronal and Glial Mechanisms of Chronic Pain"
Ru-Rong Ji, PhD
Professor
Duke Anesthesiology