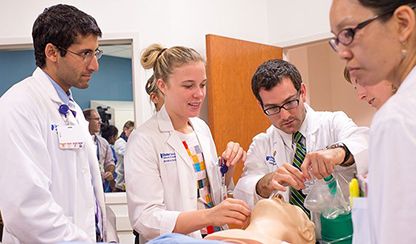 The Duke Human Simulation and Patient Safety Center (HSPSC) was established in 2001 as a joint project of Duke University's School of Medicine, School of Nursing, and Department of Anesthesiology. The HSPSC is an interdisciplinary, interprofessional team of physicians, nurses, educators, and human factors engineers that focuses on health care education, safety, quality, and research. The HSPSC model, with clinicians and educators working side-by-side with human factors engineers, has been cited as a 21st Century model for improving patient safety and quality. The HSPSC is internationally recognized for advancing state-of-the-art simulation and for innovation in education and research.
The HSPSC, located in the Mary Duke Biddle Trent Semans Center for Health Education, has expertise throughout the continuum of simulation—from lab-based to in-situ to virtual. The physical facility features three simulation theaters: an OR suite, an ICU suite, a fully integrated audiovisual capture and playback system, and three multimedia classrooms.
The HSPSC provides simulation-based education to students from the Duke University School of Medicine, Duke University School of Nursing, allied health professions, residents and staff from across Duke Health, and industry partners. In addition to health care education, the HSPSC supports quality improvement projects within the Duke University Health System.
Collectively, HSPSC personnel have been responsible for bringing $8.1 million in funding to Duke from agencies such as the National Institutes of Health, Department of Defense, National Board of Medical Examiners, Biomedical Engineering, Anesthesia Patient Safety Foundation, Health Resources and Services Administration, The Duke Endowment, industry, and others. The HSPSC team publishes in the realm of learning technology, medical education, simulation, human factors, patient safety, and quality improvement. The HSPSC is currently working with the Office of Licensing and Ventures to commercialize several innovations produced in-house.
The center is led by director, Ankeet Udani, MD, MSEd, an associate professor of anesthesiology. He has played a key role in advancing continuing medical education and patient safety initiatives within the HSPSC; Udani is credited for enhancing the center's faculty training program and enhancing the residency simulation curriculum with specialty-specific simulations and crisis resource management training. He also started the anesthesiology Twitter Journal Club, which has worldwide participation.
Jeffrey Taekman, MD, professor of anesthesiology, directed the HSPSC from its inception in 2001 to 2019. He was a co-founder, inaugural elected officer, and inaugural member of the Board of Directors of the Society for Simulation in Healthcare, which has grown to become a multidisciplinary, international, professional simulation society with more than 3,000 members. He helped launch the society's peer-reviewed journal, Simulation in Healthcare, and sat on its inaugural Editorial Board. Thanks to Taekman's efforts, Duke is recognized as one of only six founding sponsors of the Society for Simulation in Healthcare.
Long term, the HSPSC plans to align with Duke's simulation centers and Duke Academy for Health Professions Education and Academic Development (Duke AHEAD) to maximize the efficiency and impact of simulation in medical education, research, and quality improvement at Duke and around the globe. By cultivating talent at Duke and through the continued pursuit of extramural funding, the HSPSC hopes to continue to serve as a global resource for the advancement of research in education and quality improvement through existing and novel uses of simulation.