Simulation can be defined as the artificial recreation of events for the purpose of education, research, and quality improvement. This technique uses different modes such as mannequins, skills trainers, human actors, and interactive computer environments to accomplish its objectives. Simulation also uses technology-enhanced teaching methods such as video-assisted debriefing sessions that allow participants to observe and reflectively learn from their own and their peer's actions and behaviors.
The HSPSC's expert team uses these technologies individually or artfully combined to create a simulation experience optimally suited to accomplish learning, quality, or research objectives.
Click on the following links below for more information about each type of simulation modality. To learn more about the HSPSC's educational strategy, visit the education overview page.
Mannequin simulation enables the recreation of healthcare events which allow participants to learn and practice in environments and situations that are realistic but avoid potential harm to patients. This modality is also useful in helping individual learners apply their knowledge, skills, and abilities as inter-professional teams, which is essential in light of the increasing complexity of healthcare and need for interdisciplinary collaboration.
The HSPSC uses high and low-fidelity adult and pediatric patient simulators from Medical Education Technologies, Inc. (METI) and Laerdal Inc. The high-fidelity simulators are full-size mannequins which can be programmed to respond appropriately to the environment and to a user's physical or pharmacologic intervention. The mannequins are computer controlled either at the bedside or from a distant room. Scenarios may be preprogrammed or run "on-the-fly". The mannequins may be used to teach simple physiology and pharmacology, bedside medical examination techniques, cardiopulmonary resuscitation, and complex medical management. Most medical settings may be replicated from a simple floor bed to the complex operating room environment. Physiologic parameters that can be simulated include: EKG, invasive and non-invasive blood pressures, expired gas composition, oxygen saturation, central venous pressure, pulmonary artery pressure, intracranial pressure, and body temperature.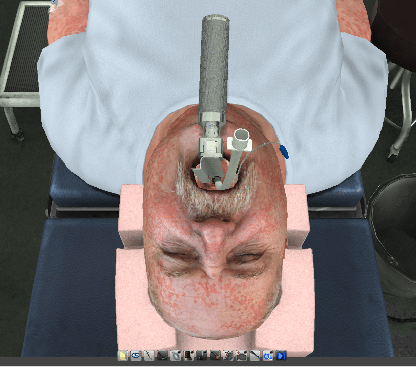 The HSPSC is pioneering the use of virtual, computer-based simulation to train clinicians in crisis management, procedural skills, decision-making, and teamwork. Virtual, game-based immersive education is an emerging training strategy that can be easily accessed, scalable, and widely deployable.  By leveraging the internet's ubiquity, realistic gaming technology, and this generation's digitally-oriented culture, "serious games" can serve as a viable alternative or supplement to traditional training methods.  This cutting-edge technology is widely deployable and can be scaled to the size of a health system, or distributed across the world for global health initiatives.
Role-playing, or the use of standardized patients, is a mode of simulation that uses the live portrayal of patients or team members. This method is particularly effective for events focused on communication, as well as diagnostic and examination skills.
Partial task trainers and virtual procedural trainers help learners develop skills and gain confidence in performing selected procedures.