"We at Duke have a role to play in global health to make the world a better place."
Adeyemi J. Olufolabi, MB BS
Program Director, Anesthesia Global Health Fellowship
Affiliate, Duke Global Health Institute
Anesthesia plays a critical role in global health care, not only in times of crisis, but also in day-to-day events, such as childbirth. Things that we consider routine or trivial in the United States, such as a hernia repair, can be life threatening in third-world countries that lack adequate supplies or medical education. There is a great need abroad for the skills possessed by anesthesiologists. In response, Duke Anesthesiology's physicians and staff are committed to actively taking mission trips to countries that need help the most. Across the globe, the department's goal is to achieve health equality worldwide by meeting the health challenges of today and tomorrow.
Since 2010, Duke Anesthesiology has been committed to taking its residents outside the walls of Duke University Hospital and into underprivileged countries to make a difference in the lives of others. This department offers one CA-3 resident an American Board of Anesthesiology accredited, month-long global health residency rotation each year – a unique opportunity for residents to expand their knowledge and improve the quality of anesthetic care of patients abroad while working alongside an attending physician from Duke at Ridge Hospital in Ghana.
Meet our Global Health Leaders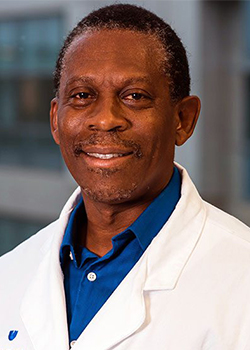 Adeyemi J. Olufolabi, MB BS
Professor of Anesthesiology
Program Director, Anesthesia Global Health Fellowship
Affiliate, Duke Global Health Institute
Division of Women's Anesthesia
Department of Anesthesiology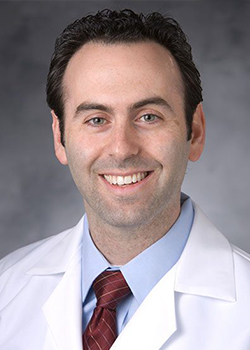 Brad M. Taicher, DO, MBA
Associate Professor of Anesthesiology
Associate Professor in Pediatrics
Affiliate, Duke Global Health Institute
Division of Pediatric Anesthesia
Department of Anesthesiology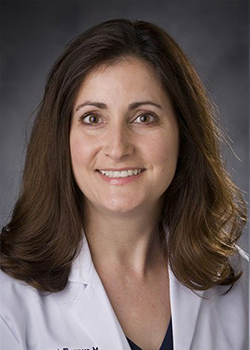 Annemarie Thompson, MD
Residency Program Director
Professor of Anesthesiology
Division of Cardiothoracic Anesthesiology
Department of Anesthesiology
Duke Anesthesiology has been involved in global health missions in low resource countries for several years. Countries as diverse as Guatemala, Haiti, Ghana, Uganda, Sierra Leone, Honduras, and South Africa have all benefited from the dedicated contributions of anesthesia. The nonprofit organization, Kybele, Inc., put the Duke Anesthesiology Global Health Program into motion in 2006 when they went on their first joint mission trip to Ghana. While working at Ridge Hospital, this team quickly recognized that it was a safe learning environment to bring anesthesia residents from Duke. In January of 2010, Duke Anesthesiology brought its first resident to Ghana. One year later, Duke Anesthesiology achieved its first American Board of Anesthesiology recognized global health mission trip with a resident in Ghana. And today, Kybele continues to support mission trips with the department's faculty and residents.
Duke University faculty, alumni, and CRNAs have participated in maternal care improvement projects in Turkey, Croatia, Republic of Georgia, Egypt and Ghana. Duke Anesthesiology's presence has been particularly strong in Ghana. Under the leadership of Dr. Olufolabi, the department has returned to Ghana over several years. This enthusiastic team has seen dramatic improvements. Those who remain behind to cover shifts, organize supply and equipment donations, and provide funding, are just as paramount to the success of these teams as the individuals who venture abroad.
Over the years, Duke Anesthesiology has been formalizing its relationship with the Duke Global Health Institute (DGHI). In response to increasing interest in global philanthropy expressed by Duke personnel, the department has opened a pathway for career opportunities in anesthesia and global health. Duke Anesthesiology has collaborated with DGHI in the development of a two-year fellowship program that will allow candidates to spend approximately half of their time in the field, and the remainder in the classroom at Duke earning their masters in global health. Dr. Adeyemi "Yemi" Olufolabi of the Women's Anesthesia Division serves as the program director for this fellowship. Anesthesia residents will also have the opportunity to gain early exposure to international work and the various challenges associated with it.
Duke Anesthesiology faculty continue to actively take leadership roles in global health engagement. Dr. Ashraf Habib was appointed as Kybele's Society for Obstetric Anesthesia and Perinatology chairperson of the international outreach committee. In 2016, Drs. Holly Muir and Brad Taicher were appointed as affiliate faculty to the DGHI, joining their colleague, Dr. Olufolabi, who was also appointed as the Ghana Team Leader. Through its growing relationship with DGHI, Duke Anesthesiology will have access to new resources allowing for multidisciplinary collaborative projects. There are several opportunities for those willing to travel with a team to a project site. In addition to partnerships already in place, Duke is establishing post-disaster medical relief teams to aid local and national teams with direct medical relief after natural and all-hazard disasters.
These fundraisers have helped to raise funds to support our residents' travel expenses for their global health projects.
Pie-in-the-Face
Pie in the Face was a global health fundraiser that Duke Anesthesiology began in 2014. Three "competitors" are chosen from the department each year. The person who earns the most donations in their name receives the celebratory pie in the face; the top donor earns the honor of throwing the pie. Previous Pie in the Face winners include Duke Anesthesiology's chairman, Dr. Joseph Mathew, Dr. Solomon Aronson, and Dr. Edward Sanders.
Duke Anesthesiology's Annual ASA Alumni Event Silent Auction
During the annual ANESTHESIOLOGY conference, Duke Anesthesiology hosts an alumni event that draws in nearly 200 guests, including faculty, trainees, staff, alumni, donors and friends. In addition to music, dancing, culinary cuisine, and networking with colleagues and friends, guests have also enhanced their alumni celebration by bidding on a variety of silent auction items, graciously donated by our faculty and the department.
Ghana
Faculty, trainees and nurse anesthetists with Duke Anesthesiology visit Ghana where they have partnered with local health care workers in two regional hospital centers to improve maternal care and reduce maternal mortality and still birth rates. Multidisciplinary team visits through Kybele, Inc., a nonprofit medical education partnership organization, are led by Dr. Olufolabi three times/year.
Achievements to-date include:
Assist in setting-up a nurse anesthesia school at Ridge Hospital in Accra where more than 40 nurse anesthetists graduated and 26 undergoing internships added to the increasing growth of anesthesia providers. Dr. Muir assisted in Accra in the initial setup of the school curriculum.
Olufolabi is an honorary faculty in the bachelor's degree nurse anesthesia program of the University of Development Studies in Tamale in Northern Ghana. This is the first bachelor's degree program in Africa. It was created to address the lack of a career progression of nurse anesthetists and prevent the constant attrition of the profession.
Through engagement with many collaborators, maternal mortality decreased by 34 percent at Ridge Hospital from 2007 to 2011; still births decreased by 36 percent.
Organized two airways courses that have had nearly 200 nurse anesthesia participants.
Duke Anesthesiology established a two-year anesthesia global health fellowship program in collaboration with the Duke Global Health Institute.
Guatemala
Since 2012, a team of physicians, nurses, trainees and staff from Duke Anesthesiology, Duke Children's Hospital, and Mending Kids has made an annual trip to Guatemala City to interact with local providers and care for local children. Over the course of one week, they screen more than 150 children and provide both simple and complex neurological and general surgeries for about 50 children each year.
Duke Anesthesiology's Dr. Brad Taicher has been involved in the Duke Guatemalan Project for five years. It's a collaboration with Duke Surgery in effort to provide critical medical care to children in an underprivileged area and medical education to Guatemalan nurses, anesthesiologists and surgeons. This project was built as a team-oriented structure in pediatric care that offers patients a full range of services and offers providers a full range of education. Duke Anesthesiology's mission trip in 2016 was especially significant because it was the first year that the Duke team was in the operating room with Guatemalan residents alongside them. Another notable first in 2016 was the rare opportunity for Dr. Taicher to present a grand rounds lecture to the surgeons and anesthesiologists at the two largest public hospitals in Guatemala City, Roosevelt Hospital and San Juan del Dios.
Uganda
An ever-growing departmental global health project is provided by a collaboration with Makerere University and Mulago Hospital in Kampala. It was observed on repeated visits to Uganda by a team headed by Duke Surgery's Dr. Michael Haglund, that there was a dire need for further anesthetic and critical care teaching and training assistance in this region.
The key objectives of this mission are the creation of new partnerships with the Emergency Medicine Department at Mulago Hospital, and the development of biomedical engineering support with training and research collaborations at Duke. Local Ugandan residents and faculty lead research support teams. Multidisciplinary teaching support has been provided through the establishment of an anesthesia officer training program and various perioperative safety programs at Mulago Hospital. In addition, a safe motherhood program with Women's Health Services in Kampala and Mbarara has been formed.
Collaborations with other academic institutions is key to the development of these programs. Duke Anesthesiology is working closely with Global Partners in Anesthesia and Surgery (a non-governmental organization based at the University of California, San Francisco), on the development of multiple joint efforts, including a curriculum for Mulago Hospital's Scholars Program that will be instituted by Health Volunteers Overseas. This major development will open the program to residents from multiple institutions as there is a strong need to expand the alumni and faculty presence in these programs.
This nonprofit organization supports medical and cardiovascular training programs in third world and emerging nations through hands-on education and demonstrations. It provides physicians and staff with modern medical information and surgical techniques to care for patients in need.
Mission Trip Locations: China, Haiti, Kenya, Uganda, Vietnam, and Cuba
This nonprofit organization improves birthing conditions and outcomes for mothers and babies, worldwide, by providing training and resources to host countries. Professionals work alongside doctors, midwives, and nurses in countries with high birth mortality rates to help make system changes that improve health care safety.
Mission Trip Locations: Armenia, Brazil, Croatia, Egypt, Ghana, Japan, Mongolia, Republic of Georgia, Romania, Serbia, Turkey, and Vietnam
This nonprofit organization provides corrective, life-saving, transformational surgical care to children worldwide while advancing education and training. Most of the surgeries provided correct congenital heart defects, orthopedic abnormalities, severe scoliosis, urological defects, and facial deformities.
Mission Trip Locations: China, Costa Rica, El Salvador, Ethiopia, Guatemala, Haiti, Honduras, Mongolia, Mozambique, Nicaragua, Peru, Philippines Tanzania, Thailand, Vietnam, and the United States
This nonprofit organization is dedicated to providing charitable medical and surgical care for children ages 0 – 17, specifically children living in extreme poverty across Guatemala.
Mission Trip Location: Guatemala
Here are some ways you can support our global health mission trips abroad:
Financial Support
All global health donations will be directly allocated to the Duke Anesthesiology Global Health Program. All funds raised support anesthesiology residents and go toward expenses (i.e.: travel, vaccinations, etc.) related to their global health missions.
By Mail
Click here to download our donation form. To ensure that your gift is directly allocated to global health, please check the box "Duke Anesthesiology Global Health Program" under the "Gift Information" section of the form. Please make all checks out to Duke University and indicate "Duke Anesthesiology Global Health Program" in the memo field. Mail your gift and the completed form to the following address:
Department of Anesthesiology
Attention: Stacey Hilton
DUMC 3094, Mail Sort #48
Durham, NC  27710
Donating Medical Supplies and Equipment
Many countries dearly need new medical supplies, equipment and resources to improve the delivery of anesthesia to the patients. If you're interested in donating extra supplies or equipment for residents to take with them on their mission trips, please contact Dr. Adeyemi Olufolabi.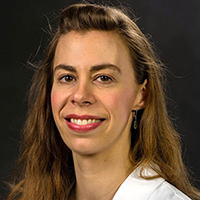 "Duke Anesthesiology was the first place I could find somebody who said yes, we have a dedicated rotation that one resident is guaranteed to go on per year. I think this is pretty unique to Duke. My global health mission trip challenged me to really hone my craft, to ask why, and to be adaptable. I learned how to use drugs that I had only read about. It expanded my knowledge in a way that I would not have been able to receive had I not gone abroad. I can't imagine a satisfying career that doesn't include this for me."
Tera Cushman, MD 
Duke Anesthesiology Residency Program, Class of 2016
---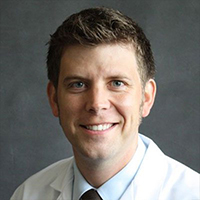 "A one-month rotation abroad has so much value. One of the unique aspects about our training is that we work in so many different environments, from stratifying patients' risks before going to the operating room, to being in the operating room, and postoperatively. In turn, I was amazed at all of the knowledge I acquired in Ghana, including how to provide medical care with a fraction of the disposable supplies that we consider necessities in the United States."
William Nelson, MD
Duke Anesthesiology Residency Program, Class of 2014
Global Health Missions and Fundraisers