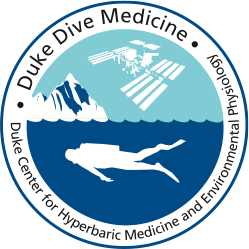 For Emergency Hyperbaric Medicine Consultation:
For life threatening emergencies, always call 911 or your local emergency number first.
The Duke Hyperbaric Center is available to treat all diving and / or hyperbaric medicine emergencies 24 hours per day 365 days per year.
To contact Duke Dive Medicine call 919 684-8111 and ask for the Hyperbaric Physician on Call.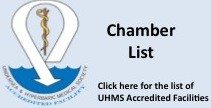 Please note that data on this list is as up-to-date as possible, however, this information is subject to change at any time.
Visit the Undersea and Hyperbaric Medical Society's website.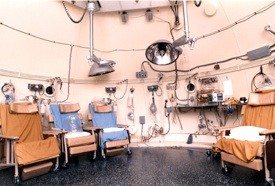 The Duke Center for Hyperbaric Medicine and Environmental Physiology is an integral part of Duke Hospital. Call 919 684-6726 to schedule an appointment.
The Duke Center for Hyperbaric Medicine and Environmental Physiology is the Southeast's regional referral center for Hyperbaric Medicine.
It is a multi-place, critical care-oriented, hyperbaric facility available 24 hours a day.
The Duke chambers were the first in the nation and to earn the UHMS "with distinction" certification. They are the only hyperbaric chamber in NC with that honor.
All Duke Dive Medicine physicians are board certified in Undersea and Hyperbaric Medicine and have more than 120 years of collective experience and are IMCA / DMAC certified for fitness to dive examinations
Duke Dive Medicine provides medical evaluation and consultation for planned human extreme environmental exposures including recreational, technical and commercial diving, terrestrial high altitude exposure and space travel at 919-684-6726.