The physicians and staff of the Duke Center for Hyperbaric Medicine and Environmental Physiology are available for onsite consultation regarding hyperbaric chamber maintenance and certification, medical and technical education and diving related research in any part of the world. Our consultants are experts in the field who address complex problems with knowledge, experience and efficiency. Our reasonable fees reflect our academic mission and are intended to make safety and quality practice accessible.
Duke Dive Medicine Facility Safety Seal of Compliance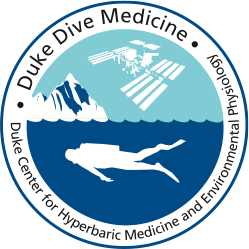 Goal
The goal of this program is to improve the medical and technical infrastructure of hyperbaric  facilities serving divers in remote areas of the world through the dissemination of medical knowledge and the promotion of technical competence.
Definition
The Duke Dive Medicine Facility Seal of Compliance is a dated certificate awarded to participating facilities based on the inspection teams' observation of that facilities' compliance with criteria derived from the goals and standards of the Undersea and Hyperbaric Medical Society's (UHMS) Clinical Hyperbaric Facility Accreditation Manual at the time of the inspection.
UHMS Accreditation Goals (p4 Accreditation Manual)
Clinical hyperbaric facilities are staffed with the proper specialists who are well-trained
Clinical hyperbaric facilities are using quality equipment that has been properly installed and maintained, and being operated with the highest level of safety possible
Clinical hyperbaric facilities are providing high quality of patient care and are maintaining the appropriate documentation of informed consent, patient treatment procedures and physician involvement.
Criteria for Attainment of the Certificate
On site evaluation of candidate chamber by DDM personnel evidencing proper:

governance, administration and compliance with applicable local regulations
condition of facility and maintenance practices
conformance with local and international guidelines including PVHO and NFPA codes
conformance of the candidate chamber staff regarding:

conformance with applicable regulations for chamber governance
conformance with recommended medical and technical continuing education
existing and expected patient census
Immediate Benefits to Candidate Chamber
Written report describing:

Current condition, strengths and weaknesses
Strategies for improvement
Duke Dive Medicine Facility Seal of Approval will be awarded if appropriate

All chambers participating in the program will be listed on the DDM website as a preferred provider by DDM and DiveAssure
All participating chamber's contact information, staff directory, photographs and history will be attractively listed on the DDM website with multiple links to diving organizations and to DiveAssure
Follow up evaluation will be arranged if needed

Updated written report indicating improvements changes made
Duke Dive Medicine Facility Seal of Approval will be awarded if appropriate
Long Term Benefits to Candidate Chamber Through an Ongoing Association with Duke
Free 24 hour telephone or online consultation with DDM Physicians for:

Medical questions, treatment advice
Chamber related technical questions and advice
Duke faculty mentoring in: basic science, epidemiology and biostatistics for local research projects
Free online participation in:

Scheduled DDM diving medical case conferences
Bi-Weekly Faculty teaching lectures to Duke Undersea and Hyperbaric Medicine fellows and housestaff.
Onsite consultation availability at favorable rates for:

Facility repair and upgrading
Diving medical education
US based education for participating chamber staff held at the Duke Hyperbaric Center at favorable rates for:

Facility maintenance and repair
Diving medical education
Technical questions